This is the fourth blog in an occasional series on 3D printing and additive manufacturing (AM).
A lot has been going on since our last blog about advances in materials for 3D printing and additive manufacturing (AM). This time, we'll tell you about architects 3D printing with ice and marble, some firsts in 3D printing titanium, and a university R&D team with a faster way to print multimaterial objects.
3D printing with ice isn't as new as you might think. Researchers at Montreal's McGill University have been developing this technique for a few years, originally to discover methods for building small to large objects out of ice using computer-controlled techniques. One of the main ideas is to use a commercial and industrial prototyping and modeling material that, in the far north anyway, is plentiful, inexpensive, and environmentally friendly. The other is to build temporary inhabitable structures for use in the ice-tourism industry. The machine is called the Cobra 600 Rapid Freezing Prototyping (RFP) system.
Click the image below to start the slideshow.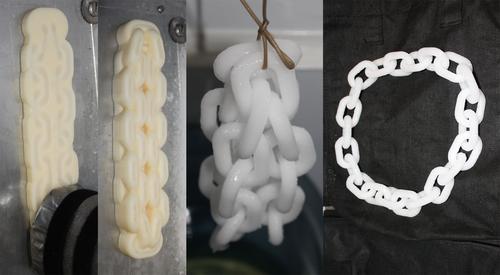 Researchers at Montreal's McGill University have been developing 3D printing with ice for use as a commercial and industrial prototyping and modeling material, as well as for making temporary inhabitable structures. Shown here, the construction process for making a chain from ice.
(Source: McGill University)
Making things out of recycled marble dust with 3D printing is the goal of Marble Eco Design. The group was formed by an architect and a graphic designer in Italy 's Corena Ausonio marble district as a research project. Their goal is to develop a novel 3D-printing technique that can use high-quality, recycled, waste marble dust from local quarries. This would eliminate the quarries' disposal costs and provide new materials that could be used in art and fashion, as well as architecture, by mixing the marble dust with UV light-sensitive resins. The group demonstrated some objects it had made with this technique at the 2013 Maker Faire in Rome.
It turns out that the first-ever 3D-printed metal bike frames we told you about from UK-based Renishaw, made of titanium, were preceded by the first-ever 3D-printed titanium car parts. These were also made using Renishaw machines, but by an R&D team at the UK's University of Sheffield. The team used titanium powder made by UK-based Metalysis. Unlike most titanium powder, this is created from sand, making it much less expensive, according to a press release.
An R&D team at the University of Southern California Viterbi School of Engineering have invented a faster 3D-printing process, which they've recently applied to printing multiple materials that cure at different rates. The team, led by associate professor of industrial and systems engineering Yong Chen, announced that they have decreased fabrication time to minutes instead of hours. Their process is based on mask image projection-based stereolithography (MIP-SL). Earlier, they had improved this process using a single material, which you can read about here, by developing a two-way movement design for bottom-up projection that spreads the resin much faster.
You can watch a video here of Chen describing the team's achievement and a test case combining hard and soft materials. In the video, he says:
Instead of using given material properties, we can have control of properties by combining two different materials together. We are expanding the material options available for the product designer, such that we can improve the product performance dramatically.
Related posts:
{doclink 272075}
{doclink 272034}
{doclink 272030}
{doclink 271813}
{doclink 271649}
{doclink 271385}
{doclink 271311}
{doclink 271244}
{doclink 271093}
{doclink 271012}
{doclink 270865}
{doclink 270456}
{doclink 270436}
{doclink 270384}
{doclink 270238}
{doclink 269747}
{doclink 269675}
{doclink 269565}
{doclink 269539}
{doclink 269201}
{doclink 269091}
{doclink 269073}
{doclink 268622}
{doclink 268568}
{doclink 267987}
{doclink 267732}
{doclink 266958}
{doclink 266319}
{doclink 265793}
{doclink 259420}
{doclink 251526}