Now that it's National Robotics Week 2015, let's take a look at the changing face of factory automation. The hero of the trend to bring manufacturing back to North America is the industrial robot. Whether it's picking up delicate glass or lending a clean hand to food lines, the factory robot is taking on more and more human tasks.
Here's a range of robotic help for industry. Advances in motors, strength, speed, vision, and axis control are making the robot a smart and efficient choice for repetitive, accurate action.
Click on the image below to start the slideshow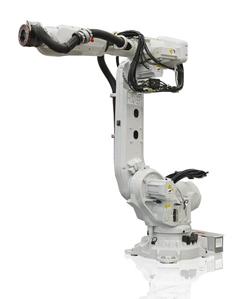 ABB Robotics has introduced the IRB 6700 robot family, its seventh generation of large industrial robots. The IRB 6700 is available in payloads from 150 kg to 300 kg, and reaches from 2.6m to 3.2m. The robot is designed for spot welding, material handling, and machine tending. The power consumption has been lowered by 15%, and the total cost of ownership has been reduced by up to 20%. The robot's maintenance has also been optimized, doubling the time between service intervals.
(Source: ABB)
MORE FROM DESIGN NEWS: National Robotics Week Hits the STEM World
Rob Spiegel has covered automation and control for 15 years, 12 of them for Design News. Other topics he has covered include supply chain technology, alternative energy, and cyber security. For 10 years he was owner and publisher of the food magazine, Chile Pepper.
Design engineers, New England's premier design and manufacturing event, Design & Manufacturing New England, will take place in Boston, May 6-7, 2015. A Design News event, Design & Manufacturing New England is your chance to meet qualified suppliers, get hands-on with the latest technologies, be informed, and expand your network. Learn more here.