Today's energy-conscious climate has elevated low-power electronics architecture, infiltrating every aspect of contemporary design, from consumer products to industrial machinery. Along with low-power requirements have come other design challenges, such as shrinking circuit board real estate in portable and wearable electronics and the Industrial Internet of Things requiring wireless and energy-storage-based design.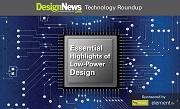 Fortunately, more than a few techniques have emerged to help design engineers get over the hump of simultaneously handling user-interface needs, collecting and transmitting remote sensor data, and providing security while drawing the least possible amount of current in their microcontroller- and microprocessor-based designs.
Go Beyond Datasheets
Likely the most important design prerequisite, before any designer starts development and prototyping, is awareness of a standardized parameter for determining what "low-power" means in the first place. Major microchip vendors have worked together to establish EEMBC ULPBench as a base starting point for industry benchmarking MCU offerings in active power and idle power energy efficiency. Designers should be familiar with EEMBC's USB-based measuring device that plugs into evaluation/development boards.
Markus Levy, president of EEMBC, has another recommendation for design engineers: Look at MCU peripherals that can shoulder some of the work typically done by the MCU, including analog-to-digital conversion, pulse-width modulation, and communication. Investigate integrated memory subsystems, optimal firmware code compilers and clocks, and gating of the latter.
Kenneth Dwyer, director of applications engineering for MCUs for NXP Semiconductors, echoes Levy, suggesting engineers pay attention to subtle details and footnotes in datasheets to ensure they are comparing MCUs "apples to apples." According to him, the most foolproof way of evaluating MCU active current draw is write your own application code, debug and optimize it, and use it on commercial microcontroller offerings.
Have Peripheral Vision
Speaking of memory systems, embedded system designers who need to create human-machine interfaces and thus rely on microprocessors can tap MPUs with on-chip SRAM. Doing so forgoes comparatively clunky multi-chip Flash and DRAM architecture, according to David Olsen, staff product marketing manager of Renesas Electronics America. Employing on-chip memory -- MPUs with memory bus architecture -- along with execution-in-place Flash will not only reduce circuit board components and bills of materials but also kill latency between DRAM code execution and graphics buffering.
MORE FROM DESIGN NEWS: Can You Optimize this Example MCU-Based Design for Low Power Operation?
Compared with devices that are in active mode for most of the time, devices that predominantly idle need power-supply quiescent current efficiency over long periods of time and well-tuned power-save modes -- especially if those devices are powered by batteries. Chris Glaser, a Texas Instruments applications engineer, advocates switch-mode power supplies that can significantly reduce their quiescent currents. According to him, reducing the output power consumed does not always significantly reduce the amount of input power drawn, so reducing quiescent current (and current leakage) when load current decreases is more effective.
In industrial technology, motor speed control through MCU-based electronic drives is reducing energy consumption at manufacturing and industrial facilities. These MCUs do their work using field-oriented control algorithms with pulse-width modulation. And here is where selecting an MCU with integrated DSP, ADC, and signal amplifiers, as well as designing dual-motor control from a single MCU (in those applications that apply) with the right on-chip resources, can enable efficiency savings, Microchip Technology's senior product marketing manager Jason Tollefson noted. He said, typically, 70 MIPS of processing power is sufficient with applicable MCUs. In some ways, industrial energy consumption is similar to current draw in consumer goods, marked by periods of continuous power and pulsed power from stored-energy sources. Continuous power applications, such as reading flow and pressure in remote oil and gas fields, require, again, power-conserving MCUs in control systems. Fortunately, there have been plenty of MCU innovations to make low-power operation more and more a reality.
So whether you are designing a newfangled electronic wearable gadget or an extensive-node wireless connected sensor network, there are plenty of Essential Highlights of Low-Power Design to guide you. Click on the link to get the details of these essentials in Design News' latest Technology Roundup e-book, sponsored by Newark element 14.
Will Ng is a perfectionist who has been in business journalism for more than 15 years, many of which have been devoted to covering manufacturing, technology, and industry. A writer first, he loves to tell a good story and enjoys reporting on market trends and news.
Atlantic Design & Manufacturing, the largest advanced design and manufacturing trade show serving the Northeastern US, will take place in New York, June 9-11, 2015. It's your chance to meet qualified suppliers, get hands-on with the latest technologies, and expand your network. Learn more here.