In the past, design engineers looked internally at machines to perfect performance and maintenance. Now, with the explosion of the Industrial Internet of Things (IIoT) we're seeing a compelling need for interconnected machines. Machine designers must contend with connectivity and interoperability to get the most from their systems.
Engineers are now must ensure their machines offer significant connectivity, visibility, flexibility, and speed. IIoT technologies give machine builders the ability to pinpoint sources of inefficiency and incorporate greater sustainability, speed, and cost savings. This is a competitive mandate. The smartest, fastest, most efficient machines will win.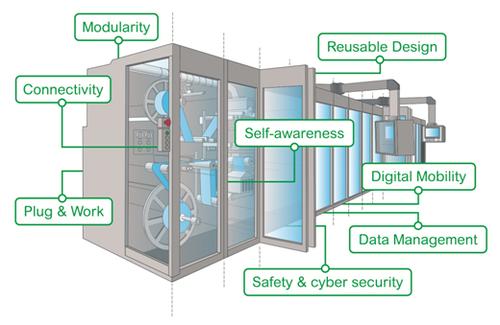 (Source: Schneider Electric)
Yet, not all engineers manning the machines have the right skills to take the IIoT leap. "IIoT is an opportunity for fast-moving engineers and a threat to dinosaurs," Mark Duncan, segment manager of material handling & packaging machinery at Schneider Electric, told Design News. "We started in the '90s with Modbus to allow machines and PLCs to talk with each other and talk with control and IT. Now new skills are needed. A lot more time needs to be spent on software design. You have the data you're pulling from the machine and what do you do with it? How do you process it and integrate it?"
The reasons for moving to IIoT are compelling. Machine builders who want to compete for business and engineers who want to compete for jobs will have to become expert in connectivity. "IIoT offers failure analysis and early detection. You'll use less energy and optimize material," Duncan told us. "The operators of these machines will benefit with smarter devices and mobile devices. It will be more user-centric."
[Visit Schneider Electric at Booth 3230 at Pacific Design & Manufacturing, Feb. 9-11, at the Anaheim Convention Center.]
Machines now have to be self-aware; they have to communicate and be able to provide data upstream and downstream. It's a data management issue that demands new skills. "Machine builders need to learn more about how data management works. They need to follow the standards that are evolving," said Duncan. "Engineers need to understand more about how control is decentralized as more processes function locally before they're sent to central control."
A Shortage of Qualified Engineers
In this new world of connected machines, there is not a sufficient number of engineers who are trained in IIoT. "There's a shortage of engineers who are qualified to do the design or do the maintenance and operations of the more sophisticated equipment," said Duncan. He believes this problem could be cured by universities. "The engineers now coming out of school have a computer science background and that helps a lot. We're starting to see more specialized curriculum for industrial technology."
Even while Duncan is hopeful that emerging university curriculum can help young engineers learn the necessary data management skills for the IIoT world, he's not sure there will be enough of them to fill industry's needs. "The boomers are retiring and fewer people are graduating with the type of requirements that are needed," said Duncan. "We do a lot with universities to create programs to bring students into this work early. We recruit them earlier than we have in the past. STEM programs may also help with that."
READ MORE ARTICLES ON DESIGNING WITH IIoT:
Smart Machines Help the Engineer
Many of the new smart machines are designed to be put together with a modular approach. The assumption is that they will connect to other machines. Duncan noted that much of Schneider's automation is now plug-and-play, with smart devices set up to connect easily to an existing system. "It's like putting together Lego blocks. Whether it's the PLCs or the HMI, the tools are converging and they're more standardized. PLCopen allows engineers to share function blocks," said Duncan. "On the production level we're seeing standards around softeware and identification of machines that need to talk with each other."
Emerging Open Standards
End users are beginning to demand open standards to support communication across machines that come from different vendors. "Say you're at P&G and you're making coffee pots. You may have to buy six or seven machines from different vendors to make your products," said Duncan. "It can take a while to get into the machines to make them work."
Emerging standards are addressing this issue. "There are standards that are coming out to help in connecting machines from different vendors," said Duncan. "In packaging they have PackML. The tagging is standardized. You can put equipment together much easier than in the past."
For years, vendor-based standards have been a roadblock to interoperability. Duncan believes that world of proprietary standards may be coming to an end. "We're on the cusp of ending the vendor-proprietary standards. A lot of vendors have their own fieldbus, but it's going to move to open standards. PLC programming is becoming standardized," said Duncan. "We're moving toward that. In the consumer world, the USB port is ubiquitous. That type of thing will happen in the industrial environment."
Rob Spiegel has covered automation and control for 15 years, 12 of them for Design News. Other topics he has covered include supply chain technology, alternative energy, and cyber security. For 10 years he was owner and publisher of the food magazine Chile Pepper.
Like reading Design News? Then have our content delivered to your inbox every day by registering with DesignNews.com and signing up for Design News Daily plus our other e-newsletters. Register here!