When I was a kid, there was one kind of Oreo. When my kids were young, there were two or three different Oreos, including seasonal varieties (orange filling during Halloween, for example). These days Oreos come in a ton of different shapes, styles, and packages. They're produced in countless flavors (including banana split and/or green tea, depending on your part of the world). Much of this is due to flexible manufacturing. Mike Frommelt, field director at Omron, took up the subject of flexible manufacturing at Design and Manufacturing Minneapolis last month.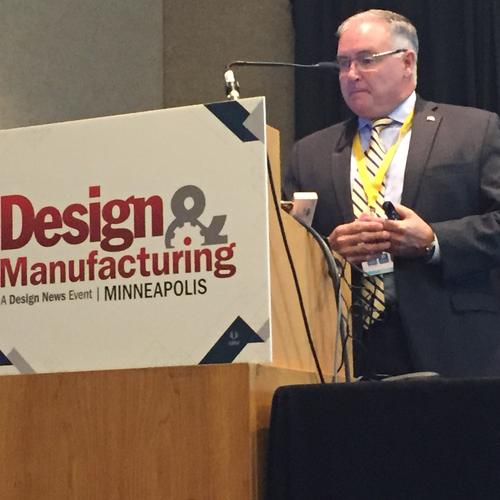 Mike Frommelt, field director at Omron, talks flexible manufacturing at Design and Manufacturing Minneapolis.
(Source: Design News)

Frommelt believes flexibility in manufacturing is becoming more available through the use of advanced manufacturing technology. "The manifestation of Industry 4.0 is taking manufacturing to a completely different place, to a place of self-awareness," he said. "It's a vision that's fast becoming reality. Early adapters are already making progress."

The pressure to develop flexible manufacturing comes from the customer who seeks greater variety in products. Product variety has been restricted in the past due to the high costs. "Innovation and flexibility is driven by the customer. It gets the customer involved in the creation and design of the products," said Frommelt. "Flexibility provides the product variety. Ordinarily that raises costs. There is a correlation between product variety and cost."

The cost of product variety has changed with the modularization of the manufacturing equipment. Customization of products comes from flexibility, and with that flexibility comes the modularization of the manufacturing equipment. "Modularization allows smaller batches to stay profitable. Flexibility requires smart modularization," said Frommelt. "Modular means you can move things around easily, accommodating changeover and making changeover easy. Now you can change the machine using a simple item on the HMI."

Design the Entire System for Efficiency

Modularization begins with individual machines, but to get to truly efficient flexibility, all of the equipment together must become a modular system. "The parts that make up smart modularization can be designed for easy changeover. As demand increases, the capability of the machines must change, as well," said Frommelt. "It goes from a singular modular machine to a complete modularization. The entire system becomes modular so it's easy to set up and easy to changeover."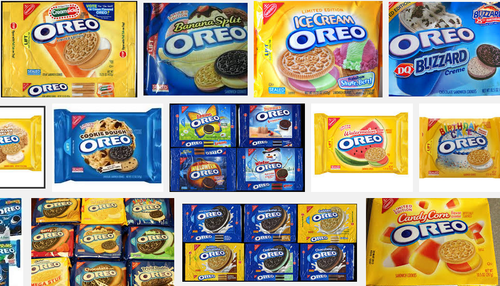 Oreo varieties are an example of product variation that's possible with flexible manufacturing.
(Source: Nabisco)

Part of the process of creating a flexible manufacturing system is to make sure that system is implicitly efficient. "Rather than having an onsite person to report problems, the system should be able to send an alert to problems and let the operator know before things break," said Frommelt. "Also, you can limit liability through traceability. Tracking when events happen and where the products have been is part of the traceability. Traceability is critical. It drives down costs by identifying and preventing non-conforming products."

READ MORE ARTICLES ON FLEXIBLE MANUFACTURING:

In the past, each piece of manufacturing equipment had its own control system. Integrating a number of individual machines was a significant chore. "Traditionally each machine had its own software control, and the user had to do the configuration to communicate and synchronize the machine with the system. That wasn't easy," said Frommelt. "Now you can use centralized control, one environment for all motion, vision, safety, and robots along the whole system. Any system or machine can now connect using open networks such as Ethernet IP."

Using Data to Gain Flexibility

When machines are connected, you can collect data across the entire system. That data supports both flexibility and efficiency. "Smart technology transfers massive amounts of information. And what are they doing with the data? Discovering bottlenecks," said Frommelt. "The data has to be collected properly and used effectively. Manufacturers are behind on this. Sixty-eight percent of them believe they are collecting adequate data, yet most are still using paper data."

The use of manufacturing data is not just an add-on; it's a critical factor in attaining real flexibility. "Data availability is the most important step. The ability to collect and store the data becomes a competitive factor," said Frommelt. "The best place to store data is in a secure database that is managed by experts. Then you can use the data to track the key indicators."

As for the machine connectivity, much of it is already aboard the equipment. "Embedded connectivity exists today for visions systems as well as production equipment. It allows for communication between the automation system and the machine," said Frommelt. "Control can send data directly to the database. And control can read data from the database, as well as with recipes."

What's your favorite Oreo? Tell us in the comments!

Rob Spiegel has covered automation and control for 15 years, 12 of them for Design News. Other topics he has covered include supply chain technology, alternative energy, and cyber security. For 10 years he was owner and publisher of the food magazine Chile Pepper.