Move over, Baxter. Longtime industrial automation and robotics heavyweight Fanuc has joined the robot battle. Like Rethink Robotics' now-famous red collaborative robot, Fanuc's CR-35iA can work safely alongside humans without the need for fences or cages.
The CR-35iA collaborative robot is 35-kg-payload, force-limited robot that features six-axis articulation. Key to the robot's design is that it can work collaboratively with humans to perform tasks that might be difficult, especially when it comes to lifting heavy objects, Rick Maxwell, director of force and large robot applications for Fanuc America, told Design News in an interview.
"The CR-35iA is an industrial robot that also allows collaboration with humans," he said. "With Fanuc's unique force-limiting capabilities, the CR-35iA can work autonomously without fencing or barriers, or it can work in concert with humans and assist in tasks that would not be suitable for people."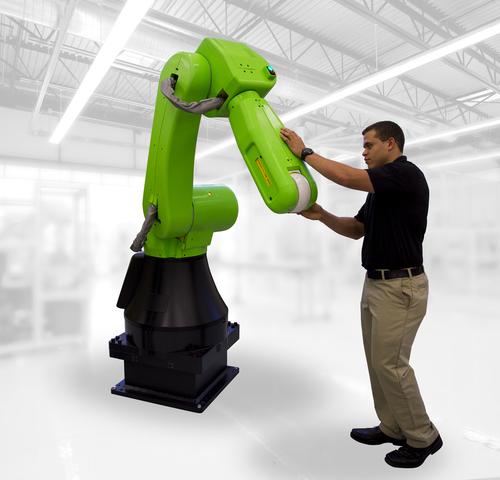 Fanuc's new CR-35iA robot is a 35 kg payload force limited collaborative robot designed to work safely and collaboratively alongside humans without the need for safety fences.
(Source: Fanuc America Corp.)
The robot is covered in a soft foam green material to protect workers who come in direct contact with it, but it also will gently come to a stop on impact, Maxwell said. "The CR-35iA is TUV-certified to maintain a contact force less than 150 N," he said. The reason for the bright color -- which is different from standard yellow Fanuc is known for -- is to distinguish the CR-35iA from them, the company said.
The robot features the Fanuc R-30iB controller with network communications and integrated vision. The compact controller is said to be energy efficient, giving customers space and power savings, respectively, according to the company.
Fanuc designed the CR-35iA robot in particular to help manufacturers solve line worker ergonomic challenges by handling applications that are physically demanding for humans. This could be helpful in industries such as automotive, in which workers must repetitively lift spare tires into vehicles on the assembly line.
The CR-35iA also can be used in a number of other varied applications due to its reach and payload, Maxwell said. These include palletizing, kitting, assembly, material removal applications requiring tactile feedback which can use a force sensor, and bin picking, he said. "The list of potential applications is extensive."
The CR-35iA and Baxter are just two examples of a new breed of industrial robots that work without safety cages and safely -- and, in some cases, even intuitively -- alongside human workers on the factory floor. Another collaborative robot supplier is Universal Robots, and Comau recently unveiled a collaborative robot model. Collaborative robots are contributing to a growth in the industrial robot market.
Elizabeth Montalbano is a freelance writer who has written about technology and culture for more than 15 years. She has lived and worked as a professional journalist in Phoenix, San Francisco, and New York City. In her free time she enjoys surfing, traveling, music, yoga, and cooking. She currently resides in a village on the southwest coast of Portugal.
Like reading Design News? Then have our content delivered to your inbox every day by registering with DesignNews.com and signing up for Design News Daily plus our other e-newsletters. Register here!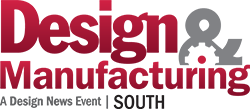 Design News will be in Orlando in November! Design & Manufacturing South will be in Orlando Nov. 18-19. Get up close with the latest design and manufacturing technologies, meet qualified suppliers for your applications, and expand your network. Learn from experts at educational conferences and specialty events. Register today for our premier industry showcase in Orlando.