We've told you about NASA's efforts working on 3D printing in space: building a printer that will work in near-zero-gravity, making rocket engine parts, and 3D printing parts of rovers destined for planetary and lunar exploration. Not to be left in the dust, the European Space Agency (ESA) has begun a program for designing a large-scale 3D printer that will work in space making metal components.
Called AMAZE (Additive Manufacturing Aiming Towards Zero Waste & Efficient Production of High-Tech Metal Products), the program aims to put the first 3D metal printer on the International Space Station. Astronauts there could use it to make tools, and build entire satellites for missions to Mars and the moon. This would save both time and the costs of rocket fuel to ship items to the ISS.
Click on the image below to check out AMAZE.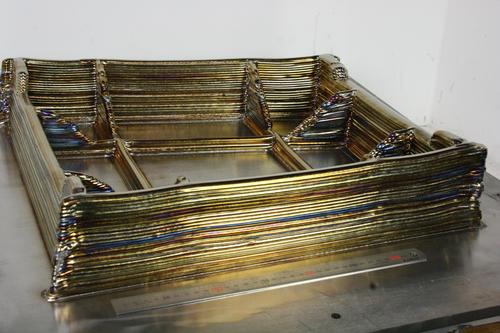 The ESA and the European Commission have launched the AMAZE project to perfect the printing of space-quality metal components in space. This sandwich structure aerofoil demonstrator was made of titanium using 3D printing technology.
(Source: Cranfield University)
The ESA, in partnership with the European Commission, is evaluating five different, unnamed metal additive manufacturing processes, including those that use lasers, electron beams, and plasma to melt metal powders or wires. The goal is to make metal components and systems that are high enough quality for the rigors of space. That includes withstanding temperatures of 1,000C, and some of the metals have melting points as high as 3,500C. Another goal of the project is to speed the fabrication of large metal parts so they can be manufactured in 24 hours or less.
Expensive metals such as tungsten, niobium, and platinum can be used in 3D printing with far less waste than in subtractive manufacturing, making them a lot less expensive. Combinations of them could be used to build lightweight, high-strength components, which could also result in the design and creation of new materials. Applications for automotive systems and aircraft parts such as engines and wings might also result from the research.
The project includes industrial and educational partners throughout Europe. Although these were also unnamed, members of the project giving presentations at a recent showcase event included Cranfield University, the Culham Centre for Fusion Energy, De Montfort University, EADS Innovation Works, and Norsk Titanium.
Pilot factories are being set up in four countries: Germany, Italy, Norway, and the UK. Each pilot factory will focus on one method of metal 3D printing. A supply chain is also being put together that will include 3D printing systems, metallic alloy feedstocks, control software, post-processing and finishing, and metrology.
Last January, the ESA said it was working with Foster+Partners, an architectural firm, to test the possibility of using lunar soil and the D-Shape 3D printer to make structures for use on the moon. The D-Shape printer is being used to make buildings from sand, combined with a binder.
Related posts:
{doclink 270238}
{doclink 269675}
{doclink 269201}
{doclink 269091}
{doclink 267732}
{doclink 267004}
{doclink 266774}
{doclink 266575}
{doclink 266319}
{doclink 266147}
{doclink 265837}
{doclink 265139}
{doclink 265097}
{doclink 264842}
{doclink 264282}
{doclink 262621}
{doclink 262205}
{doclink 258652}
{doclink 256862}
{doclink 256731}
{doclink 256092}
{doclink 252293}
{doclink 251754}
{doclink 251513}
{doclink 250614}