Remember the old days at the video arcade? Sure you can get most classic games on the latest console or even download them on your PC or phone, but nothing quite matches the feeling of dropping a quarter into a coin-op machine.
Contributor Dylan Bishoff brings gaming back to the old school with a DIY arcade cabinet. For only about $100 you can build a cabinet with as many classic games as a PC hard drive can hold.
Dylan explains how:
-------
Before I start on the project, I should mention a few things.
1. Though it is what I used for the project, I would recommend using MDF wood instead of plywood -- MDF is a lot more forgiving, and gives you a smoother final finish. It also saves a lot of time sanding. Plywood can be a hint cheaper, which is why I wound up using it, but it can create minor problems. Nothing wood filler and sanding can't fix, but problems nonetheless.
2. The Arcade as a whole is subject to change in accordance to what YOU want to do with it. Its easy enough to scare up a blueprint for a different button layout, and the computer can be more or less powerful depending on your purpose. You could even go as far as to change the layout of the cabinet as a whole if you so pleased. This whole project is very forgiving and universal, so go ahead, make it yours!!
Alright, to the project ...
Click through the images below to view the parts list and full build instructions
Or you can download the full instructions here: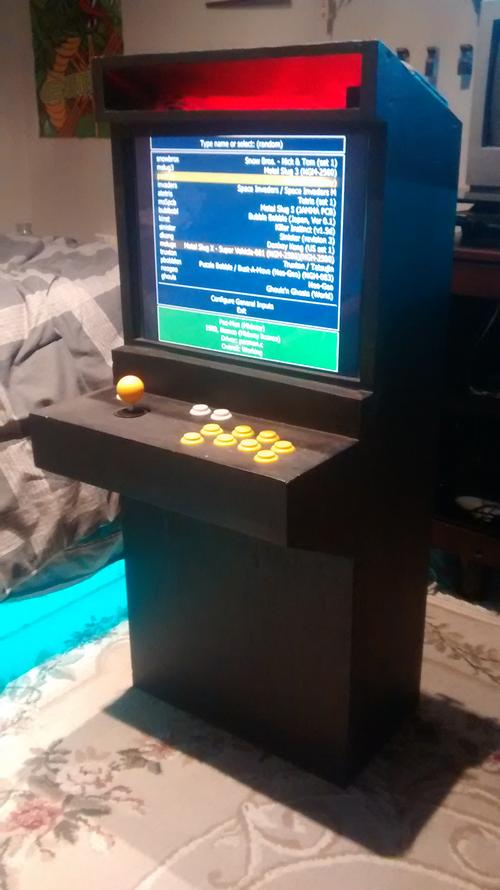 PARTS LIST:
Plywood (Or MDF), One sheet of 3/4 inch, another of 1/2 inch

Arcade joystick and buttons
-8 30 mm buttons
-1 8-way joystick
-1 printed player button

(I use a smaller 30 mm button compared to standard in this build and a joystick i fished out of an old fight-stick. You can buy buttons and joysticks online (Here: http://retroactivearcade.ca/) for decent prices, but i happened to have a local shop i go to).

Any old computer monitor
(I used a BenQ monitor. The monitor itself is 4:3, with a 17 inch diagonal, it fit the build very nicely, and most of the blueprint was made in accordance to the monitor size, so hunt for one similar)
A PC
(It doesn't need to be a gaming rig, just anything powerful enough to run arcade games made in the 80's. I used an old dell that had been lying around and wasn't being used)
Computer speakers, and speaker grills.
(again, free range on these, i got mine for $1 at a garage sale. I recycled the grills from the old casings for the cabinet)
USB Desk fan (smaller the better, i used a 5.5 inch diameter one. Something big enough to cool the back of the monitor)
2 Cupboard hinges
LED light strip (AC or USB)
3 inch x 14.5 inch plastic strip
Xin Mo USB control board
Cupboard handle
(Or substitute, IPAC works well too, especially if you're adding in substantial more buttons and joysticks)
3/4-inch screws
lots of hot glue and super glue

Do you have a cool, original, homemade gadget collecting dust in your garage? Give us the details at DesignNews.com/GF, and you may receive $500 and automatic entry into our $6000 Gadget Freak of the Year contest!

[All images courtesy Dylan Bishoff]