The DoE Just Broke the World Record in Solar Cell Efficiency
The DoE Just Broke the World Record in Solar Cell Efficiency
The Department of Energy's National Renewable Energy Laboratory (NREL) has demonstrated an unprecedented solar cell conversion rate.
The Department of Energy (DoE) continues to make gains on research efforts to improve the efficiency of solar cells. The agency's National Renewable Energy Laboratory (NREL) recently achieved an efficiency of 45.7% in a solar cell, one of the highest cell efficiencies achieved to date.
The work surpasses the current world record in efficiency of 44.7% achieved last year by a group of German and French scientists at the Fraunhofer Institute for Solar Energy Systems ISE, Soitec, CEA-Leti, and the Helmholtz Center Berlin. That research, as well as the NREL's, involved a four-junction solar cell, which means the cell has four p-n junctions, or interfaces, between two types of semiconductor material. The cells harvest sunlight by dividing the solar spectrum into portions and each junction is tuned to a different light wavelength, increasing the efficiency of the overall cell.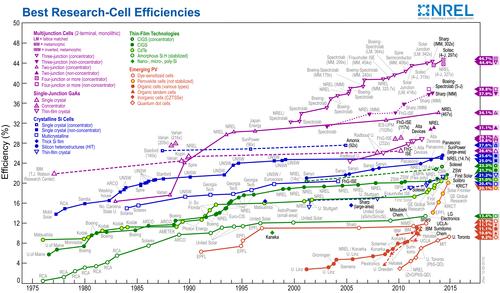 A diagram shows the latest in research on solar-cell efficiency and the institutions working on these projects.
Click to enlarge
(Source: Department of Energy National Renewable Energy Laboratory)
Sign up for the Design News Daily newsletter.
You May Also Like
---
DesignCon 2024

Jan 30 - Feb 1, 2024
Jan 30 - Feb 1, 2024
DesignCon is the premier high-speed communications and system design conference and exposition, offering industry-critical engineering education in the heart of electronics innovation — Silicon Valley.
Learn More