Smart Connected Devices Bring New Challenges
Smart Connected Devices Bring New Challenges
Consider factors such as upgrades, security, and supply-chain issues when designing connected systems.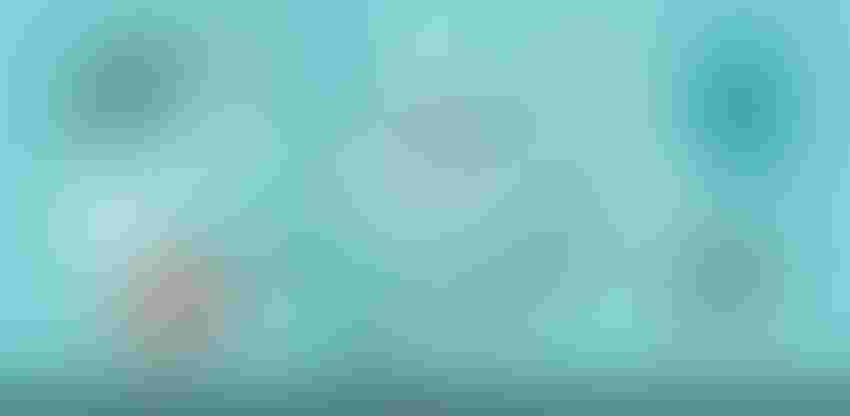 Smart connected devices are linking many aspects of our lives at home and at work. To maximize the value of these devices, design engineers must consider factors such as upgrades, security, and supply-chain traceability.
Image courtesy of ElenaBs / Alamy
Alan Porter, Vice President of Electronics and Semiconductor Industry, Siemens
Smart connected devices are everywhere, touching all aspects of modern life and deployed across every industry imaginable. We are surrounded by them – from smartphones and consumer products to connected home devices and wearables. What's more, many of these devices link to larger ecosystems, from connected vehicles to smart cities and everything in between.
For example, vehicles are starting to communicate with urban buildings and cars around them on the road. The same is true with airplanes sharing data with other airplanes for situational awareness, along with maintenance and diagnostic information communicated to ground-based maintenance. And in the manufacturing world, there is an ever-increasing connection between edge devices in the plant and smart machines, continuously streaming data to the cloud for logistics and operational analysis. This analysis of live manufacturing data can help companies to improve resiliency, maximize uptime and achieve sustainability goals.
With intelligence integrated into almost everything imaginable, there is an upsurge in both established companies and new entrants developing connected devices. Like all product designers, they feel the pressure to get to market faster with more innovative solutions. At the same time, sustainability is taking a bigger role in how a product is designed, built and operates. However, unlike mainstream product device design teams, connected device designers have additional requirements they must address when developing these smart, connected electronics.
Connectvity's impact on design
Engineers need to consider several factors when implementing smart, connected devices.
Continuous upgrades: The first consideration is ensuring a connected product can be upgraded over its lifetime with new hardware or software. There are two compelling reasons for this: first, it enables the incremental addition of new features to the product, generating further revenue through add-ons and improvements. Companies can also implement safety-critical fixes to their products much more easily and efficiently. Remote software updates are particularly powerful because they enable a critical update to be pushed to every connected device, rather than requiring expensive and lengthy recalls.
To infuse this flexibility, products need to be designed from the start for on-going updates to both the hardware and software. That requires a new approach to developing and designing the products to make connected products more flexible.
Artificial intelligence: A second challenge is developing and implementing artificial intelligence (AI) at the edge. With the immense amount of data being generated by all these connected devices, there is a pressing need for more sophisticated methods to parse and analyze that data. AI is emerging as an effective way to analyze enormous volumes of data, uncovering actionable insights quickly and reliably.
However, it often is too cumbersome and inefficient to upload data from a multitude of devices to a centralized database, analyze it, and then relay decisions or 'learnings' back to the individual devices. Moreover, in safety-critical situations, a delay of seconds to determine a response can mean the difference between life and death. That is why more and more connected devices themselves are incorporating AI capabilities to process the data and make decisions right at the edge. This distributed approach leads to faster decisions for more immediate response times to real-world conditions.
Secure devices: As connected devices become more a part of our daily lives, designers need to ensure security and safety for the system—especially when updating or upgrading the connected device over its lifetime. Counterfeiting, backdoors, malicious code, side channels and cyberattacks have eroded trust in electronic devices. It is imperative that connected devices be manufactured securely, that software updates are pushed to the correct clients, and the new software does not inadvertently contain vulnerabilities that could compromise the device. This is a daunting prospect, considering some of these connected devices will operate for years or even decades with untold numbers of upgrades.
Supply chain security and traceability: Speaking of security and eliminating vulnerabilities, companies also must have total confidence in their supply chains. Here, trust and traceability are especially critical. Specifically, companies must track materials, sub-assemblies, software and semiconductor devices, and all the many technologies that go into a connected product throughout the production lifecycle. It is crucial to clearly understand where all these components and subassemblies were sourced, verify the parameters that the connected device was produced under, where it was manufactured, and so on.
This even includes things like rare earth elementsꟷ some of these metals and elements are crucial to track from a sustainability and safety perspective. Even a few molecules of lead per device, for example, can create a dangerous amount in the aggregate of the total number of products produced. As a manufacturer, it is essential to know where potentially harmful substances, such as lead, are being used, and to ensure they are handled correctly.
Creating a single source of truth
So how is it possible to develop products that are flexible and adaptable to future upgrades while remaining secure? All while managing complex product lifecycles and global supply chains, verifying the information from the supply chains is accurate and true.  And ensure hardware and software upgrades are being supplied to the correct devices without introducing new vulnerabilities.
The answer to these challenges is the comprehensive digital twin that acts a single source of truth for the connected device. A digital twin contains all the relevant data associated with the many disciplines needed to design, manufacture and operate the connected device over its lifetime. This includes the hardware, software, manufacturing, operational data, and the supply chain. Interconnections between these heterogeneous domains, known as digital threads, are the critical feature for creating this single source of truth for all the information.
By building a comprehensive digital twin, companies create a hub that stores an authoritative model of the connected product. The digital twin incorporates hardware and software for simulations, applications, drivers, and more. With the comprehensive digital twin, it is feasible to perform early design space exploration to holistically optimize the design upstream, whether it is revising design constraints or rules to relate them to requirements. This requires a tight connection for the data to be absolute, measurable, and correlated properly. The digital twin is used to compare test and simulation data, to check requirements, and ensure the design team is meeting targets and goals. This enables a 'shift left' paradigm beyond verification and validation, connecting system-level design and component-level design.
Securing the supply chain
Companies creating connected devices must ensure that products are built from known good materials and sub-assemblies while being manufactured to the requirements established by design. A digital thread needs to be created that delivers trusted traceability to prove the source of all the materials, confirm the device has been built correctly, and ensure the design has not been tampered with at any point in the design and manufacturing process. All are provided in such a way that is auditable.
For supply chain security, companies can digitally 'fingerprint' their hardware and software. It is now possible to verify where the device was manufactured, the parameters, and the materials involved using blockchain as a control system to monitor the input and output of the domains and systems. This enables predictive analytics to monitor the system. Blockchain also encrypts the data exchange between the domains.
It is even possible to combine supply chain logistics with analytics to see the real-time trends in supply issues and changes. That enables rapid switching of sourcing in the event of a natural disaster or other indicators, for example. Artificial intelligence and predictive analytics can be used to analyze the aggregated data throughout the supply chain, providing insights to various stakeholders based on their need-to-know, clients' security access, sustainability, marketing, etc.
Tomorrow's connected devices
Capabilities and technologies are available today that enable companies to meet the unique challenges of designing, manufacturing, and enhancing connected devices over their lifetime. The ability to create a comprehensive digital twin that acts as a single source of truth for the device's design, manufacturing and lifecycle operations is the first step. Then, in manufacturing and over a product's lifetime, digital threads combined with blockchain and artificial intelligence analytics deliver the supply chain security needed to confidently manufacture and upgrade connected devices for years to come.
All these factors ensure companies can meet the cost, performance, power, and sustainability goals for today and tomorrow's connected devices.
Alan Porter, Vice President of Electronics and Semiconductor Industry for Siemens, is a 30-year veteran in the electronics and semiconductor space, having held executive engineering roles as well as directed strategy, planning, and development at OEMs, including Apple and Huawei. Alan is also accustomed to the challenges of advancing innovation with a deep technical background in telecommunications, electrical, and software engineering, and hands-on expertise in cloud computing. He has driven key technology advancements within the EDA industry during his leadership roles at Mentor, Cadence, and Synopsys. Alan is also active in professional organizations including IEEE, ACM, and GSA.
Sign up for the Design News Daily newsletter.
You May Also Like
---
Sep 12, 2023
The Battery Show brings together engineers, business leaders, top-industry companies, and innovative thinkers to discover ground-breaking products and create powerful solutions for the future.
LEARN MORE