How to Build a Better Racing Tire
How to Build a Better Racing Tire
Firestone's IndyCar racing boss Cara Adams oversees the whole racing tire development process.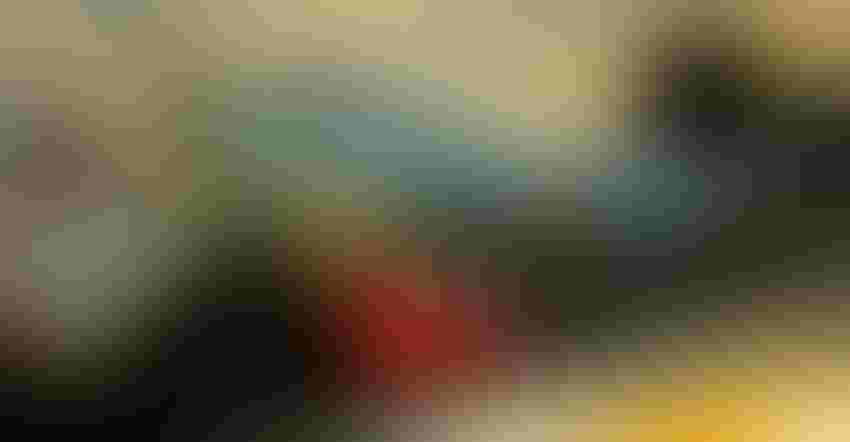 IndyCar's first test of the season was at Barber Motorsports Park, in Alabama.
Joe Skibinski, courtesy of Indycar
As the IndyCar calendar inches closer to the sport's season-opening race at Barber Motorsports Park in April, teams are testing their cars and their tires in preparation for the 2021 racing season. We thought it would be a good time to examine the process of developing the crucial tires that drivers depend on for success. Design News got answers from Cara Adams, director of race tire engineering & production for Bridgestone Americas Tire Operations and Firestone Racing. She was able to describe the process that Firestone goes through in creating the right mixture of rubber compounds and tire construction to produce the kind of tires that racing teams and drivers want to use.
Design News: What do you do for Firestone?
Cara Adams: I am responsible for the team that makes Firestone racing happen. Those safe Firestone racing tires you see out on the IndyCar race track, that's all my team that's putting it together.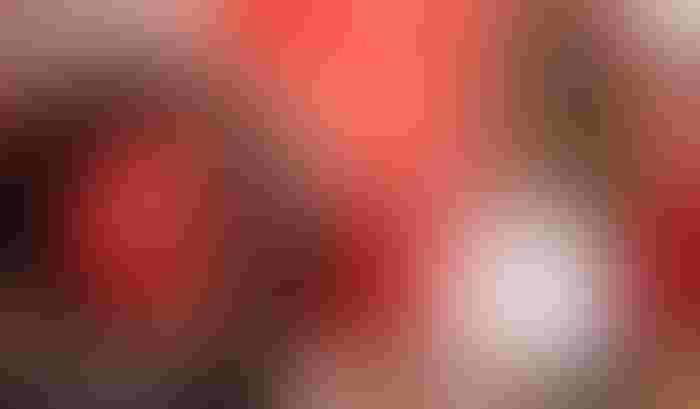 Cara Adams demonstrates Firestone's alternate tire for teams to consider. It is indicated by the red sidewall stripe.
I started doing NVH diagnostics, which is looking at vibrations and tires, I moved over to racing, started engineering our street course tires, then road course, oval tires, and then I took over engineering, and now engineering and manufacturing.
Right now most of our team is working from home if they're not in the plant, or the engineers are mostly working from home. I work with my engineers when they have questions about designs or chemists when they have questions about compounds, the chemists know much more about chemical engineering than I do.
I might offer some guidance, but they're the smart ones. And my mechanical engineers are asking questions about structure and orders. And we have project management that goes through. So really, what we're doing is we're looking at the whole design cycle for the IndyCar tires.
DN: What is the biggest challenge you face?
Cara Adams: The most challenging part, I would say one of my biggest focuses is people development, as crazy as it sounds and as many technical challenges that we have, making sure that the Firestone racing team is going to be good for years to come. So it's taking somebody who may have a little bit of an interest in racing, making sure we have the right people in the right seats and being able to set that technical vision. So what race series should we be involved in? What should our future plans for racing be? How do we make our race tire plans fit the vision of our company? So there's a lot of people development, there's a lot of vision and strategy.
DN: Considering the variety of track types in Indycar, how does Firestone design tires to operate in these various conditions?
Cara Adams: We have different specifications, actually for street courses, for road courses, and for ovals. So anytime you see the car on a racetrack, even though it has four tires and the front tires look about the same size and the rear tires look about the same size, there are four different specifications every time the car is on the track. So the right front is not the same as the left front. Same thing with the rear tires. So there you've got four different specifications that, you know, the front tires have to be able to handle a lot of braking capacity and demand. And the drive, the traction when the engine revs up and puts all of that torque down on the ground, that all has to be transferred to the rear tires. So all that stop, go, and turn of the car has to come from the tires. And each position can be balanced specifically for the racetrack we're at.
DN: What are your primary goals when optimizing tires for those different requirements?
Cara Adams: Our testing extends beyond what we could get to the racetrack. So when we are looking at our first designs of tires, or looking at changing a tire, there's a lot of initial testing that goes into the tire even before we make the tire.
We would model the tire virtually, create a computer model of the tire and say we wanted to change an angle of something in the tire, we might take that component and we might make a change of that component. And then we would model what the results are.
How does the stiffness change? What does the footprint look like? How does the tire take camber? How are the different layers? What is the durability of the tire difference? We're able to model all of that before we actually make a tire.
Now we've taken a tire, we've made a two-degree change on a component. And now we're actually going to build the tire. We've gone through the design. We tested [version number] one, tested [through number] four, and [version] two is the right number, we build that tire.
Now we take it to the racetrack. But even before it goes to the racetrack, we're going to do some indoor testing on it, every tire that goes through has a quality check. And then every new design that goes through has a lot of extensive testing. So we're gonna look at things like what the spring rate is.
DN: What is a tire's spring rate?
Cara Adams: What spring rate is, is how much the tire deflects under a certain amount of load. We put a load on the tire, we measure that deflection. And we're able to do that in any radial manner. So just loading the tire like you would at the track. And we're able to do a side force and a fore-aft, front/back force.
We're able to measure all of that we also measure the tires on a high-speed durability drum, just like we do with our regular production tires. We're able to do lots of different tests to understand and characterize that tire. Because we don't want to go to the racetrack, just build a tire and say "Here, here's this tire, team, go test it," what we would do is, we would get a good idea of what the spring rate is, what the diameter changes, anything that the team needed to know about the difference on how the tire would perform.
DN: So what do you do when you finally go to the track with a new tire?
Cara Adams: We give the team: "This is the data that we know of the tire, here's the here's a tire, let's put it on the car. We don't recommend making any setup changes" or "We do recommend setup changes now. Let's take it for a few laps around the Indianapolis Motor Speedway and see what the driver thinks."
We'll go through that, we'll look at data, and then we may do a long run on it. We will do all of those before we actually got to the point where we put a new specification into production if it was a construction change.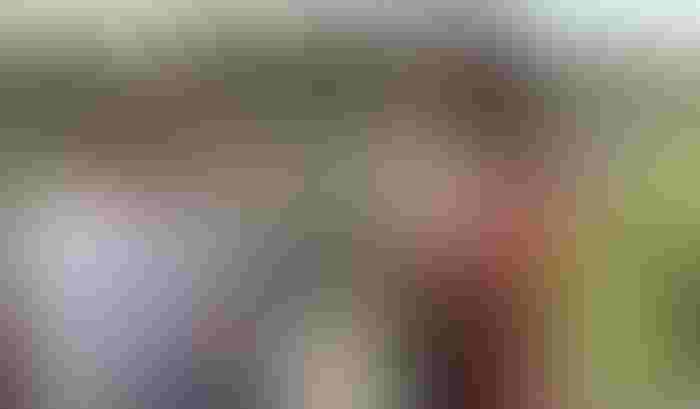 Cara Adams debriefs driver Graham Rahal to get his opinions of the tires used that day.
DN: How do you balance performance improvements with safety considerations when developing a new tire?
Cara Adams: There is no balance. Safety is always, always number one. If I'm going to have a driver who says they didn't like how the tires performed, but I know that they were safe, at the end of the day, that's a win.
We always want to work with our drivers. And we always ask him after every single race, we're asking them probably 20 different questions about different areas of the car, and the performance of the tires, and we want all that input. But at the end of the day, safety comes first. There is no there is no balance.
Then we have "performance" and we have "speed." So yes, we are in a race series where everybody is running the same tire, we want to make something that is great for the drivers. That's fast. That's exciting for the racing fans. So there's a lot of different aspects of the tire design that we do to balance.
We could have 13 drivers say that they want to have this performance of the tire and 13 [other] drivers say that they want this performance of the tire, then you have to decide with IndyCar, "What are really your goals for performance? Is that ultimate speed? Is it consistency? Is it making sure you do have some time type of lap time drop off, so you can make some difference in racing?" So there are a lot of different things that we do juggle and balance in terms of how we design our tires. But safety is always number one.
Sign up for the Design News Daily newsletter.
You May Also Like
---
Sep 12, 2023
The Battery Show brings together engineers, business leaders, top-industry companies, and innovative thinkers to discover ground-breaking products and create powerful solutions for the future.
LEARN MORE