Solar cells made of perovskite -- a material that has cost, efficiency, and other advantages -- are poised to move from the lab to the commercial market in the next three years, according to a recent Lux Research report.
Perovskite is being eyed as a leading next-generation material in a type of solar cells called thin-film. The material is a calcium titanium oxide mineral composed of calcium titanate, and has advantages over materials used to develop these type of solar cells today, including higher efficiency and less cost in cell production.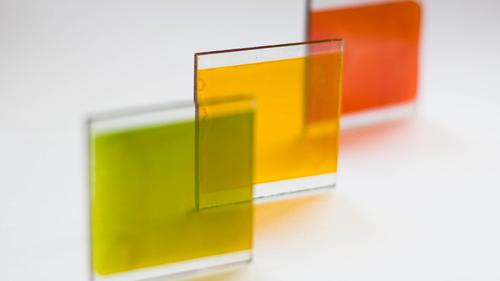 UK-based company Oxford Photovoltaics is developing thin-film solar technology out of perovskite that has advantages over comparative technology on the market today.
(Source: Oxford Photovoltaics)
With the emerging technology having scaled from about 4% energy efficiency in 2009 to 21% energy efficiency today in the lab, perovskite solar cells are well on their way to being commercially available in the 2019 to 2021 time frame, according to the report, "The Rise of Perovskites: Identifying the Best Academic Partners to Work With."
Perovskites are a natural successor to dye-sensitized thin-film solar cells that they potentially could replace, offering the potential for cheaper manufacturing and higher efficiencies, said Tyler Ogden, a research associate at Lux and lead author on the report.
"Perovskites can be manufactured at low temperatures from inexpensive precursor materials," he said. "Within the short time span, the performance of perovskite solar cells has quickly outshone organic photovoltaics with nearly double the record efficiencies."
Though dye-sensitized solar cells have never reached market maturity, perovskite-based cells will primarily compete with other thin-film technologies such as what are currently offered by companies like First Solar and Solar Frontier, Ogden said.
There are a few factors currently enabling the imminent commercialization of perovskite solar cells, according to the report. One is strategic partnerships that are lining up to bring the technology to market. One of those is between a company called Oxford Photovoltaics and the lab of Henry Snaith, a lecturer in the Department of Physics, at Oxford University, from which the company was spun off.
The partnership is taking a slightly different tack than developing pure perovskite cells, pushing a tandem solar-cell architecture instead that integrates perovskite cells with incumbent crystalline silicon cells, Ogden wrote in the report. While this type of commercialization offers the opportunity for a higher conversion efficiency than what either a perovskite or silicon module can provide alone, it also presents a challenge because integrating the cells makes it difficult to achieve a low-cost manufacturing process, he said.
READ MORE ARTICLES ON PEROVSKITE:
Indeed, there are challenges to taking perovskite out of the lab, no matter what the path to commercialization is. The stability, cost, and feasibility of providing the same type of efficiencies in the real world as they do in the lab are all issues, Ogden said.
"The durability questions have yet to be answered for perovskite solar cells," he said. "Lab cells have a lifetime of hours to days, but there has been progress from both the research community and commercial players in improving the technology's durability. For perspective, the lifetime of perovskites needs to be comparable to other thin-films that currently offer 25-year warranties."
Initial adoption of perovskite cells in the market will be in utility-scale installations where companies like Dyesol -- another company that has formed a partnership to commercialize the technology -- will first demonstrate the technology's performance in stand-alone perovskite modules, he said. Dyesol has teamed up with the lab of Michael Gratzel -- director of the Laboratory of Photonics and Interfaces at the Ecole Polytechnique de Lausanne in Switzerland -- to develop these modules, which not only have reached the world record of 21.02% efficiency for perovskite cells in the lab, but also are aimed at demonstrating stability.
"As the technology's in-field performance is verified, perovskites will move to other applications," Ogden said. "The maturation timeline of perovskite solar cells has the potential to align well with the growth of the building-integrated market. That will provide a key avenue for perovskite's growth."
Elizabeth Montalbano is a freelance writer who has written about technology and culture for more than 15 years. She has lived and worked as a professional journalist in Phoenix, San Francisco, and New York City. In her free time she enjoys surfing, traveling, music, yoga, and cooking. She currently resides in a village on the southwest coast of Portugal.