Want a Smarter Robot Application? Give It Eyesight and Networking
Want a Smarter Robot Application? Give It Eyesight and Networking
Plant managers are seeking increased intelligence in their robots, from networking to vision systems.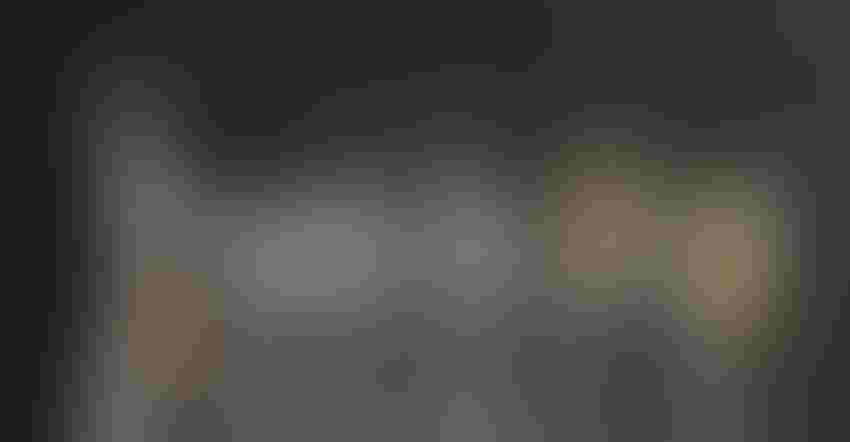 Improving plant operations can be a matter of marrying the two worlds of robot and line control systems. Robots have become more intelligent, capable, and collaborative. They're getting integrated with fellow plant equipment and ERP systems. We reached out to Rockwell to learn the status of intelligent robotics. They explained how engineers can create higher-performing robot applications. These days the robot applications can be created in less time and with significantly less effort. And the intelligent robot connects to line control systems, unifying them in a single control system. On top of all that, the robot can see now.
Intelligent Networking
A good portion of robotics intelligence is communication. The robot needs to send data to its equipment neighbors and on to MES or ERP systems. "Networking is part of the growing intelligence of robots. We used to build connections with many discrete handshakes back and forth," Justin Garski, North America's OEM segment leader for packaging and converting at Rockwell, told Design News. "Now we have infinite signals going back and forth. You're getting real-time feedback, and that networking capability has helped. Everything can talk to everything."
The data coming off the robot can move into analytics that helps to optimize production and reduce downtime. "The robots are in touch with the rest of the plant. They used to be stand-alone automation; now they're taking to MES in real-time," said Garski. "Some of the remote connectivity connects through a VPN into diagnostics and analytics."
Vision sensors have also been added to robot applications to send vision data through the network. "Moving a package or product is the holy grail. Vision integration for pick and place is a bare minimum to be in the game," said Garski. "Vision is added for quality inspection. Plus, the palletizing is getting more 3D integration with a stereo camera. A lot of cameras going on the robot. Vision is also used for grinding polishing. Vision systems can see you have a full load."
From the Simple to Complex
For the first few decades of robotics, they were caged and set up to do specific tasks such as welding and painting. "In 1995, arc welding was prevalent. It was a great robot application. It didn't take too much thinking. Packaging followed suit, by moving boxes and palletizing," said Garski. "We handled the easy projects from 1995 through 2010."
Then manufacturing changed and with it, packaging. Gone were the unified shapes. Manufacturers wanted variability and flexibility in their equipment. "These days we have the push for flexibility. Everything used to be packed in a square box. Now nothing comes in a box," said Garski. "The gripper is not just a suction cup. We have pneumatic grippers. We're applying them in the evolutionary step as industry 3.0 goes to industry 4.0. The demand has kept up the technology, even pushed the technology."
As the robots become more flexible and agile, they're also keeping track of their work and effectively sending reports into the network. "Robots are an extension of motion control. Every time a motor moves, you know that it has moved," said Garski. "In a traditional six-axis robot you'll get data at all of the points. Whether the robot is controlled by a robot controller or PLC, instructions are sent to the robot, and the robot responds and reports on its actions."
Creating the Ease of Use
Nobody wants to employ a pricy programmer to spend weeks getting the robot to work correctly. Robot manufacturers and automation vendors now compete to deliver simple deployment. "The customer is asking for ease of use. We're competing on ease of use. That's the first thing out of my mouth when talking to customers," Bill Kegley, director of Rockwell's Motion Business Unit, told Design News. "The robot is easy to use now. Customers want to get from concept to integration quickly. They want the ease of use and data. Customers are getting smarter about what they can do with the data. They can turn the data into knowledge and insight."
The easy deployment means you don't need as much engineering. "Manufacturers used to have an engineering staff. Now, the integrator has become the engineer at the factory level," said Garski. "With the ease of use and low code, you don't need much programming. If you just want to put products on a pallet, you don't need a half-million-dollar machine. You just need some cobots. In that case, the integrator is gone."
Even so, the more complex the application, the more need for people who can work with complicated machinery. "For more complex things, you need help from an OEM or an integrator. The need for engineering is bigger with the complexity," said Garski. "There's a lot of value from the people who do it well. They're building out the capability; they go after the big high-speed machines that can pack diapers at 1800 per minute. That's not a cobot. And if you want to go to 2400 per minute, you have to get help."
Sign up for the Design News Daily newsletter.
You May Also Like
---
Sep 12, 2023
The Battery Show brings together engineers, business leaders, top-industry companies, and innovative thinkers to discover ground-breaking products and create powerful solutions for the future.
LEARN MORE