A ball bearing developed for turbofan engines by FAG Aerospace of Germany and MTU Aero Engines has the potential to significantly reduce the amount of oil used in engine cooling, along with bearing power loss and fuel consumption.
The part could help airlines upgrade the efficiency of flight operations, especially in light of environmental rules affecting carbon emissions.
Features of the bearing include a significantly higher speed parameter compared with conventional parts. The bearing's speed exceeds for the first time 4 million mm/min. Conventional main-shaft bearings generate 2.4 million mm/min during takeoff.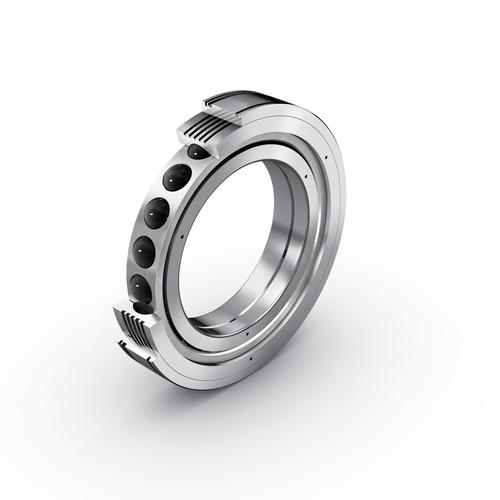 New high-speed ball bearing developed by FAG Aerospace and MTU Aero Engines reduces oil flow for engine cooling, as well as bearing power loss and fuel consumption.
(Source: FAG Aerospace)
In answers to emailed questions, Peter Glöckner, head of product design at FAG Aerospace, describes speed parameter as the product of the pitch diameter of the rolling elements in millimeters and rotational speed as measured in rpm.
Bearings with high-speed parameters need advanced cooling technologies to keep oil and material temperatures below a critical threshold. The new bearing "enables oil-flow savings of up to 50% due to its direct outer ring cooling technology" and an "integrated squeeze-film damper" that also damps vibration loads, he explained. The reduced oil flow, in turn, yields "bearing power-loss savings of up to 25%," which "increase the mechanical efficiency of the engine."
Oil volume can be reduced to 6 L/min with the bearing compared with 12 L/min for conventional bearings, he added.
Reducing power loss by up to 25% can save 200,000 tonnes of fuel annually for global fleets, the company estimates. This seems like a drop in the bucket compared with forecast global fuel consumption of up to 230 million tonnes this year. But in an industry where even low single-digit fuel reductions yield sizable sums of money for carriers, the savings will doubtlessly attract attention.
The pitch diameter of the bearing is 168 mm (6.6 in). The balls are silicon nitride ceramic, which reduces friction and lowers part weight by 13% compared with conventional bearings. The inner and outer rings are steel, and raceways feature duplex-hardened (surface-nitrided) high-temperature steel, Glöckner said.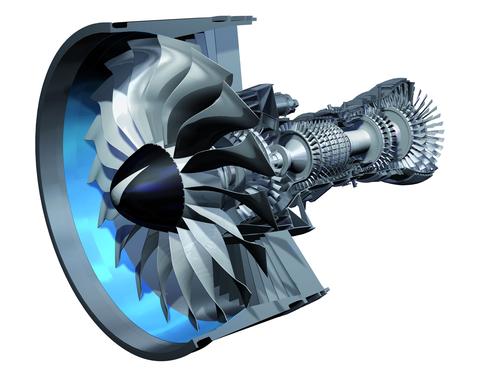 The bearing can be installed in different areas of a turbofan depending on engine design, and the technology applied to cylindrical roller bearings.
(Source: FAG Aerospace)
The bearing can be installed in different areas depending on engine design. "The bearing is especially advantageous if installed on the high-pressure spool of a turbofan engine," he noted. "The ball bearing can also be installed on the intermediate- or low-pressure spool" and "it is possible to transfer the technology to cylindrical roll bearings."
Commercialization depends on the Technology Readiness Level of new engines. Ground and flight-testing will be performed before the bearing is certified. Glöckner said that as a result, certification work will be done in conjunction with new engine programs.
The bearing can be used in other industries. "Its capability is especially beneficial for applications experiencing high rotational speeds and temperatures such as … stationary gas turbines, pumps, and high-speed gearbox stages," he said.
FAG Aerospace and MTU developed the bearing over eight years, in an aviation research program funded by the German government. The company will produce the bearings and sell them at a premium over conventional designs.
Their total operation costs, however, will be less than conventional bearings, Glöckner said, owing to their efficiency, reduced fuel burn and emissions, lighter-weight oil system, and greater reliability.
The bearings can be used on any aircraft engine, not only those built by MTU Aero Engines.
MORE FROM DESIGN NEWS: Novel Alloy Will Save Money on World's Most Expensive Fighter Jet

We're heading to Philly and Houston! Design & Manufacturing Philadelphia will take place Oct. 7-8, while Design & Manufacturing Texas will be in Houston Oct. 13-14. Get up close with the latest design and manufacturing technologies, meet qualified suppliers for your applications, and expand your network. Learn from experts at educational conferences and specialty events. Register today for our premier industry showcases in Philadelphia and Texas!
Pat Toensmeier has more than 30 years of experience writing for business-to-business publications. His main areas of coverage have been defense, design, manufacturing, technology and chemicals, especially plastics and composites. He has reported extensively on developments in these areas from the US and Europe, and covered industry events as well in Brazil and Asia. Toensmeier has held various positions at major publishers such as the McGraw-Hill Companies and Hearst Corporation. A graduate of the University of Missouri, he is a contributing editor for several print and online publications. Toensmeier is based in suburban New Haven, Conn.