MEMS Industry Group, the trade group representing the semiconductor and microelectromechanical system industries, has changed its name to MEMS & Sensors Industry Group, reflecting the increasing importance of sensors in the growing IoT world. The name change was announced at the association's annual MEMS Executive Congress.
"We want to connect more with sensors and the IoT ecosystem," said Karen Lightman, executive director of the trade group, during opening remarks at MEMS Executive Congress. The move was an official cap-off to last year's decision to make sensor technologies part of the group's charter.
The name change was approved by the trade group's governing council on the eve of the event held in Napa, Calif. It was one of several upcoming moves the association also announced as part of its 2020 Strategic Plan. The effort -- aimed at making the association a global and "world-class [trade] organization," according to Lightman -- will create a new MEMS and sensors supplier directory and an online technology guide and establish more presence in Asia and Europe.
READ MORE MEMS ARTICLES ON DESIGN NEWS:
MEMS & Sensors Industry Group, which has traditionally represented manufacturers of semiconductor devices including accelerometers, gyroscopes, pressure sensors, and microphones, knows its membership of more than 160 companies is bullish on IoT and wants to ride the oncoming wave of connected products in all consumer as well as industrial markets. The group will have a pavilion at CES in January.
The association estimates that sensor demand could become as high as 100 trillion units by 2030, compared with 1 billion in 2007 and 10 billion in 2014. It notes that sensors will be at the head of history-changing technology waves such as electronic and mobile health. Along that vein, the group will hold the TSensors (Trillion Sensors) Summit in Orlando in December. That event will give a peek at new sensor types and emerging future applications for sensors.
MEMS & Sensors Industry Group counts ARM, Freescale Semiconductor, NXP Semiconductors, and Omron as members.
Like reading Design News? Then have our content delivered to your inbox every day by registering with DesignNews.com and signing up for Design News Daily plus our other e-newsletters. Register here!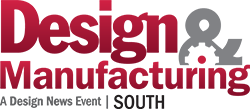 Design News will be in Orlando in November! Design & Manufacturing South will be in Orlando Nov. 18-19. Get up close with the latest design and manufacturing technologies, meet qualified suppliers for your applications, and expand your network. Learn from experts at educational conferences and specialty events. Register today for our premier industry showcase in Orlando.