As we've reported, multiple standards efforts are underway to define specifications and practices for some of the myriad aspects of 3D printing and additive manufacturing (AM). Because several different standards organizations are doing this, America Makes and the American National Standards Organization (ANSI) have formed a collaborative to coordinate and accelerate all these efforts.
The America Makes & ANSI Additive Manufacturing Standardization Collaborative (AMSC) is open to all interested persons. Its goal is to help grow the AM industry by coordinating all standards work "to maintain a consistent, harmonized, and non-contradictory set of additive manufacturing standards," according to a press release.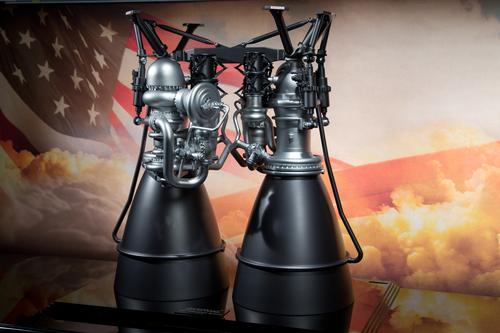 America Makes and ANSI have formed a collaborative to coordinate and accelerate the many efforts to develop additive manufacturing (AM) standards. The US Air Force, for example, recently chose Aerojet Rocketdyne to define standards for qualifying 3D-printed components used in liquid-fueled rocket engines. The company's AR1 rocket engine, currently in development, contains several production parts made with AM.
(Source: Aerojet Rocketdyne)
The group's first meeting was held March 31, at the Pennsylvania State University's Navy Yard campus in Philadelphia. You can see a copy of the meeting's draft agenda here. Agenda items include presentations by NIST, America Makes, and ANSI; definitions of the AMSC mission, deliverables and timeline by the group's chair, Jim Williams, president of All Points Additive; plus working breakout sessions.
The AMSC will identify which standards already exist and which are in development, determine where there are gaps, and recommend which areas are the top priorities for developing more standards. Those recommendations will also be made by considering the standards needs that have already been identified in America Makes' Additive Manufacturing Technology Roadmap. A copy of the public roadmap is available here.
Members of the AMSC include representatives from private industry, original equipment manufacturers (OEMs), material suppliers, government, academia, standards developing organizations, certification bodies, and other stakeholders. You can find out how to participate on the organization's website.
To date, standards for AM and 3D printing have been started and set by not only standards bodies, but also military services and private companies working together. For example, the US Air Force recently chose Aerojet Rocketdyne to define standards for qualifying 3D-printed components used in liquid-fueled rocket engines. The aerospace OEM has extensive experience using AM for prototyping and production of 3D-printed rocket engine components, as well as developing new materials and manufacturing processes for complex engine designs.
[Learn more about 3D printing and AM tech at Atlantic Design & Manufacturing, June 14-16 in New York.]
ASTM International has already published several AM standards and is working on several more, as we've reported. In the five-year strategic plan for its Material Measurement Laboratory, the National Institute of Standards and Technology (NIST) last year called for research support in advanced materials development and advanced manufacturing techniques, including additive manufacturing (AM).
Representatives of UL (Underwriters Laboratories) already sit on various standards bodies. The company has also published an equipment safety guideline outlining applicable standards for 3D printing depending on use and materials, as well as a compliance guideline for outlining how to approach producing medical equipment with AM.
Ann R. Thryft is senior technical editor, materials & assembly, for Design News. She's been writing about manufacturing- and electronics-related technologies for 28 years, covering manufacturing materials & processes, alternative energy, and robotics. In the past, she's also written about machine vision and all kinds of communications.