Although delicate, graphene is a wonder material that holds a lot of promise. Yet finding methods for manufacturing it cost-effectively has been a huge challenge. Research teams in the US and Scotland, among others, have come up with different as-yet-untried methods for commercially viable production.
Meanwhile, researchers at the University at Buffalo, Kansas State University, and the Harbin Institute of Technology in China wondered what would happen if they tried making graphene aerogels, some of the world's lightest materials, using a 3D printer and low temperatures. Graphene is notoriously difficult to manipulate in three dimensions, so using additive manufacturing (AM) to control the material makes sense. This has previously been done with a thickening agent, such as a polymer, to keep the structure stable. But removing that polymer with thermal processing is likely to damage the structure.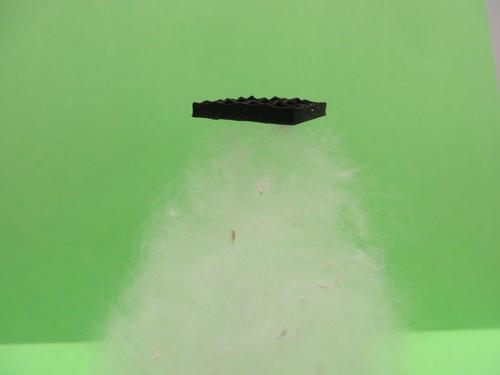 How do you make delicate graphene into structures that won't fall down? Mix it with water and 3D print it at sub-freezing temperatures, dip those structures in liquid nitrogen and put them in a freeze dryer. Then evaporate the gas and you've got this super-light lattice that looks like it's floating on a cotton-like material.
(Source: University at Buffalo)
The research team modified a 3D printer, and used graphene oxide and frozen water in a process that combines drop-on-demand 3D printing with freeze casting. The process printed cubes made of lattices, as well as a three-dimensional truss with true overhang structures, which is not easy to do with some AM processes. After mixing the graphene oxide with water, lattice frameworks were printed onto a surface with a temperature of -25C.
The graphene ends up in a middle layer enclosed between two layers of ice, which forms a structural support. To form even stronger hydrogen bonds, the lattice is then dipped in liquid nitrogen and placed in a freeze dryer. There the ice changes into the gaseous state of water and is removed, leaving an object made of graphene aerogel that keeps its shape at room temperatures.

(Source: University at Buffalo)
The team believes the 3D printed aerogel structures could be an important step in making graphene a commercially viable material for medical diagnostic devices, electronics, and other industries. Next steps in the research are to figure out how to print aerogel structures made of other materials.
The researchers published their findings in an article in the journal Small. Authors are Harbin Institute of Technology students Qiangqiang Zhang and Hui Li; University at Buffalo student Feng Zhang and assistant professor of industrial and systems engineering Chi Zhou; and Kansas State University student Sai Pradeep Medarametla and assistant professor of industrial and manufacturing systems engineering Dong Lin.
READ MORE ARTICLES ON GRAPHENE AND 3D PRINTED MATERIALS:
Ann R. Thryft is senior technology editor, materials & assembly, for Design News. She's been writing about manufacturing- and electronics-related technologies for 28 years, covering manufacturing materials & processes, alternative energy, machine vision, and all kinds of communications.
Like reading Design News? Then have our content delivered to your inbox every day by registering with DesignNews.com and signing up for Design News Daily plus our other e-newsletters. Register here!