It's not enough anymore for connector suppliers to just make products, especially when it comes to medical devices. Design engineers at device OEMs are asking their connector suppliers for a lot more varied expertise, Anthony Kalaijakas, Molex's strategic medical marketing manager, told Design News. Today's interconnect company has to get involved in more integrated solutions to keep up with changing customer needs, he said at last week's MD&M Minneapolis show.
A few years back, Molex began exploring more industries adjacent to its longstanding electronics base. "We eventually picked medical and started aiming products and capabilities in that direction," Kalaijakas told us. At first, that included mostly value-added assemblies. But OEM customers began asking for more to let them outsource their non-core competencies as they respond to changing market demands.
So Molex added to that mix some targeted acquisitions, and the result is a lot more comprehensive integrated solutions in a separate business unit. That unit, Molex Medical, focuses on three types of integrated solutions: diagnostic, therapeutic, and patient monitoring. Changes in patient monitoring devices, for example, include their evolution from larger bedside equipment to smaller, lighter, more integrated, internetworked systems.
The latest acquisitions for the medical business unit are ProTek Medical, based in Ireland, as well as some of the assets of Minnesota-based Soligie. Soligie develops flexible printed electronic solutions that are used in several industries. Its products range from sensor systems to medical wearables, LED lighting, specialized RFID labels, and devices that enable the Internet of Things (IoT). In medical applications they include diagnostics, EKG leads, surgical equipment & devices, and wearable sensors. In addition to products, its capabilities include design services, process development, prototype fabrication, product development, and multiple printing platforms for high-precision, high-volume, roll-to-roll, printed electronic manufacturing.
ProTek is a contract engineering design and manufacturing firm specializing in custom solutions for global medical device manufacturers. The specialty molder focuses on medical plastics for the biotech and pharmaceutical industries, as well as minimally invasive medical devices such as those for drug delivery, said Kalaijakas. Its capabilities include device design engineering, cleanroom injection molding, cleanroom finished device manufacturing & assembly, and medical device technology transfer including qualification and registration of devices.
Previous acquisitions that are now under the Molex Medical umbrella and have contributed to its expansion include Polymicro Technologies, Temp-Flex Specialty Wire and Cable, Affinity Medical Technologies, and FCT Electronics Group. The company's medical interconnect expertise now includes custom cable assemblies and connectors, encapsulated electronics, bulkhead connectors, ECG cables, and leadwire assemblies.
Ann R. Thryft is senior technical editor, materials & assembly, for Design News. She's been writing about manufacturing- and electronics-related technologies for 27 years, covering manufacturing materials & processes, alternative energy, and robotics. In the past, she's also written about machine vision and all kinds of communications.
Like reading Design News? Then have our content delivered to your inbox every day by registering with DesignNews.com and signing up for Design News Daily plus our other e-newsletters. Register here!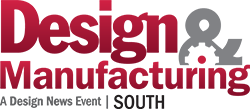 Design News will be in Orlando in November! Design & Manufacturing South will be in Orlando Nov. 18-19. Get up close with the latest design and manufacturing technologies, meet qualified suppliers for your applications, and expand your network. Learn from experts at educational conferences and specialty events. Register today for our premier industry showcase in Orlando.