Designer engineers and industrial designers know that 3D printing, while it is becoming an indispensable product development tool (and direct manufacturing method in a number of cases), is only a means to an end in the speed-to-market competition from which their organizations live or die.
Design engineers are crucial cogs in the concept, planning, modeling, detailed design, and prototyping stages of product development. But many also are responsible for manufacturing methods analysis and production planning. Although additive-based rapid prototyping technologies are ever more established, from producing concept models to detailed engineering prototypes, engineers must not lose sight of how to go from prototyping and the final design stage to manufacturing production in the most efficient and effective way.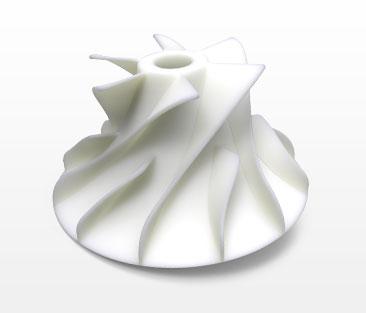 Many considerations go into the selection of the proper prototyping and manufacturing production method when companies use quick-turn part production to get to market fast.
(Source: Proto Labs)
And that's where design for manufacturability and assembly comes in, and it's also where organizations determine whether development and business resources to be used are internal or external with partners.
The term "quick-turn production" has been coined by custom manufacturers that specialize in helping OEMs and organizations deliver low-to-mid-volume quantities of production parts while high-volume production is being ramped up. Some have added additive-based technologies to their traditional production offerings, while others were originally rapid prototyping service bureaus that expanded their services to manufacturing. All are in business to get plastic and metal prototype and production-ready parts into engineers' hands in a matter of days now, rather than weeks.
MORE FROM DESIGN NEWS: Focus on Fundamentals Curriculum Calendar
There is now a plethora of 3D printing methods at companies' disposal, from stereolithography to inkjet printing to direct metal laser sintering, just to name three. But quick-turn production is method-agnostic at its heart, where companies and their product development partners should keep all 3D printing options open and make their choices based on a balance of prioritized needs. These include lead time, cost, surface finish, detail and resolution, strength and material properties, and functional behavior for form and fit checks and engineering evaluation.
Design for manufacturability and assembly (DFMA) then comes into play. Design and project engineers know that once they have committed to a particular additive-based method based on the aforementioned criteria, they must continue with materials selection and part geometries that maximize the advantages of that AM method and optimize the design, especially if the method can be a viable direct manufacturing route for initial or low-volume production runs. In such cases, 3D printing enables design freedom opportunities, including assembly consolidation, elimination of the need for drafts and undercuts, and composite/hybrid material properties and performance characteristics.
MORE FROM DESIGN NEWS: It's Time to Throw Out What You Know About 3D Printing
Still, AM methods to this day do not match injection molding, CNC machining, and casting for the highest levels of part quality, accuracy and repeatability, functional life and working features, as well as available material ranges. But quick-turn production has a wrinkle: Injection molding can be a viable low-to-mid-volume production method option when using 3D printed injection molds and tooling. Or, injection molding below mass quantities can be accomplished with CNC machined "soft metal" (typically aluminum) molds and tooling. Finally, parts can be directly produced by machining and quick-casting. Method-agnostic, remember?
This is the essence of quick-turn production, and Design News will hold From Rapid Prototyping to Quick-Turn Production: A User's Guide, a free online course, June 2-4, which will go into detail with this time-compression design and manufacturing strategy. Todd Grimm, president of T.A. Grimm & Associates, a longtime 3D printing industry expert and consultant, will lecture over three days, showing how to:
Choose from the different 3D printing options for prototyping and development
Optimize for DFMA in materials and geometry
Select the best production method, whether it is direct manufacturing via AM, CNC machining, or injection molding.
Sponsored by Proto Labs, this course will take just 45 minutes each day, but you will get a wealth of tactical information that can be quickly implemented to your design and manufacturing operations. This course is part of Design News' Focus on Fundamentals webcast series.
Will Ng is a perfectionist who has been in business journalism for more than 15 years, many of which have been devoted to covering manufacturing, technology, and industry. A writer first, he loves to tell a good story and enjoys reporting on market trends and news.
Atlantic Design & Manufacturing, the largest advanced design and manufacturing trade show serving the Northeastern US, will take place in New York, June 9-11, 2015. It's your chance to meet qualified suppliers, get hands-on with the latest technologies, and expand your network. Learn more here.