An industry organization that promotes recycling is asking designers to take one man's trash and turn it into treasure by developing innovative new products out of reused materials for an annual competition.
The Institute of Scrap Recycling Industries (ISRI) is now accepting entries for the 2016 Design for Recycling (DFR) Award, which recognizes proactive steps made by manufacturers to integrate recycling principles into products and processes.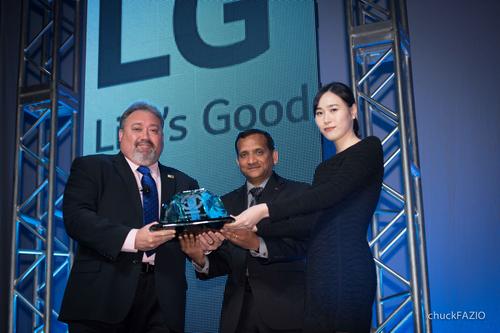 Institute of Scrap Recycling Industries (ISRI) Chair Doug Kramer (left) awards Dr. Nandhu Nandhakumar, senior vice president of LG Technology Center of America, the 2015 Design for Recycling Award from the organization.
(Source: Institute of Scrap Recycling Industries)
"The goal of the award is to reward companies, designers, and manufacturers with the mindset of producing products that can be recycled safely and with ease, thus benefiting both the environment and the economy," Mark Carpenter, spokesman for ISRI, told Design News in an interview. "Ultimately, this would lead to more products in the marketplace that can be easily recycled when they reach the end-of-life stage."
ISRI handed out the first award more than 25 years ago. Previous winners include Cascades Fine Papers Group, Coca-Cola Recycling Company, the US Environmental Protection Agency, and Dell Inc.
Last year LG Electronics took home the award for its 4K Ultra HD OLED and LED TVs. The company designed the products with several recycling-friendly traits, including: mercury-free display panels; use of recycled and recyclable plastics; inclusion of PVC-free and brominated-flame-retardant-free components; small and lighter packaging; ease of disassembly and label/seal separation; and standardized materials and connection types.
Typically, entrants in the competition use a mix of recycled and reused materials similarly to what LG did, which generally makes it a better fit for the product itself to be recycled later, Carpenter said.
"The more material in a product that is recyclable, the easier it is for [the product] as a whole to be recycled," he said. "In addition, it is important to look at what materials are not used. Adhesives, for example, often can make a product difficult to disassemble and therefore hard to recycle. In addition, the use of mercury can be dangerous to recyclers and the environment."
Carpenter added that it's important to promote recycling through awards such as the ISRI's to reduce the environmental impact of manufacturing as well as bolster an industry that has a significant economic footprint in the United States.
"As an industry we recycle more than 130 metric tons of materials, which often would otherwise go to landfills," Carpenter said. "It is an economic driver in that the industry is valued at more than $105 billion and helps create nearly half a million jobs. Recycling has many environmental and economic benefits, and the more products that can be added to the recycling stream, the more everyone benefits."
The deadline for entries is Jan. 15, 2016. Complete rules for the competition are available on ISRI's website. ISRI will unveil the winner at the ISRI 2016 Convention and Exposition scheduled for April 2-7 in Las Vegas.

We're heading to Philly and Houston! Design & Manufacturing Philadelphia will take place Oct. 7-8, while Design & Manufacturing Texas will be in Houston Oct. 13-14. Get up close with the latest design and manufacturing technologies, meet qualified suppliers for your applications, and expand your network. Learn from experts at educational conferences and specialty events. Register today for our premier industry showcases in Philadelphia and Texas!
Elizabeth Montalbano is a freelance writer who has written about technology and culture for more than 15 years. She has lived and worked as a professional journalist in Phoenix, San Francisco and New York City. In her free time she enjoys surfing, traveling, music, yoga and cooking. She currently resides in a village on the southwest coast of Portugal.