Ever since stereolithography broke through from research lab to commercial industry some three decades ago as a time-compression technology for product development, the big $64,000 question has continually hovered over 3D printing and additive technology: can it finally be reliable for manufacturing production?
On a slow-but-sure basis, additive methodologies have graduated from prototyping to actual production usage in industries that typically are at the leading edge of technology adoption, such as aerospace. However, the trickle-down effect has infiltrated other verticals, as we are seeing more and more case examples of manufacturers using additive manufacturing (AM) for direct production as well as in manufacturing support roles. This has not been lost on the construction equipment vertical and heavy industry, where Caterpillar Inc., likely the world's most recognizable brand in that space, is implementing additive manufacturing for producing gages, tools, and fixtures for its manufacturing operations, as well as for direct manufacturing of end parts.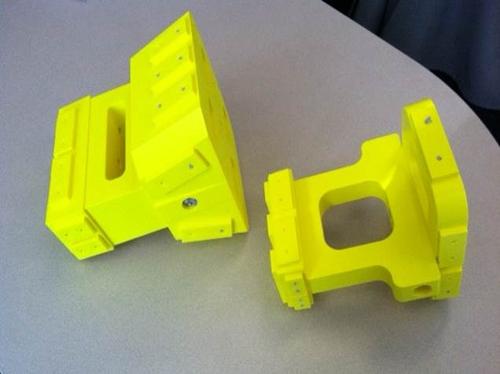 In this sneak peek at Caterpillar's Dec. 8 webcast on real-world additive manufacturing applications, this 8 x 10 x 10 steel master gauge was 3D printed in three days.
(Source: Jim LaHood, Caterpillar)
On Dec. 8 at 2 p.m. EDT, Caterpillar will showcase examples of its applications in AM, as the lead presenter in the Design News educational webcast, "3D Printing Gets Real for Tooling & Manufacturing," sponsored by quick-turn manufacturing service provider Proto Labs. Design News is proud to host this free-of-charge online event featuring one of the world's most well-known industrial companies, which, via Jim LaHood, engineering specialist for Caterpillar's Additive Manufacturing Group, will educate attendees on finding real AM opportunities with real ROI.
LaHood will show how additive manufacturing can be applied on the plant floor, in gaging, manufacturing aids and casting aids, and fixturing, as well as in low-volume production. He will discuss both low-volume plastic and metal additive manufacturing and their appropriate uses. Just a few of the high-value applications Caterpillar has implemented are AM produced-fixture pieces used in the setup of coordinate measurement machines, holders and covers to store handheld equipment, and casting aids made out of polycarbonate and ABS.
Caterpillar has been working with 3D printing and various additive methods since 1990, beginning with stereolithography for design verification and concept parts for display, and in more recent times has adopted fused deposition modeling (FDM) and material jetting. LaHood will talk about Caterpillar's expansion into other technologies, such as selective laser sintering and metal 3D printing, and provide a look into the company's Nomad 3D printer program designed to expose employees at various facilities to the potential of additive manufacturing and cultivate innovation.
READ MORE ARTICLES ON 3D PRINTING:
Even a company like Caterpillar is not bulletproof; LaHood will relay tales of Nomad program participants experiencing learning curves and "sticker shock" -- as he called it – with the cost of consumables to run the company's 3D printing machines. They were important lessons learned before program members began to innovate with the technology and also realize that metal 3D printing wasn't the end-all, be-all -- there are valuable uses for plastics 3D printing, too.
Complementing LaHood's presentation will be an educational briefing on how to design parts using direct metal laser sintering (DMLS) by Proto Labs senior quality engineer Jonathan Bissmeyer. Attendees will learn from Bissmeyer that DMLS is, to this day, not intended to replace high-volume machining, casting, and other metal manufacturing methods, but rather a solution that expands design freedoms for engineers over those conventional processes. He will discuss DMLS tips such as component reduction in part assemblies and lightweighting.
Sign up for "3D Printing Gets Real for Tooling & Manufacturing" here, in what will be an action-packed 60 minutes of real and applicable additive manufacturing intel on Dec. 8, with Design News Senior Technical Editor Ann Thryft as your host and moderator.
Will Ng is a perfectionist who has been in business journalism for more than 15 years, many of which have been devoted to covering manufacturing, technology, and industry. A writer first, he loves to tell a good story and enjoys reporting on market trends and news.
Like reading Design News? Then have our content delivered to your inbox every day by registering with DesignNews.com and signing up for Design News Daily plus our other e-newsletters. Register here!

Design engineers and professionals, the West Coast's most important design, innovation, and manufacturing event, Pacific Design & Manufacturing, is taking place in Anaheim, Feb. 9-11, 2016. A Design News event, Pacific Design & Manufacturing is your chance to meet qualified suppliers, get hands-on access to the latest technologies, be informed from a world-class conference program, and expand your network. (You might even meet a Design News editor.) Learn more about Pacific Design & Manufacturing here.