The expansion of 3D printing in recent years has altered the design process. Design software vendors are bringing together the stages of design for 3D products -- optimization of weight and structure, testing of stress, 3D printability, and cost estimates -- and folding these programs into the CAD platform to create a one-stop for 3D part design and production design. This integration of CAD and 3D printing speeds the process and helps design engineers create parts that were not possible before. 3D printing has thus become an actual manufacturing process for low-volume products as well as tooling.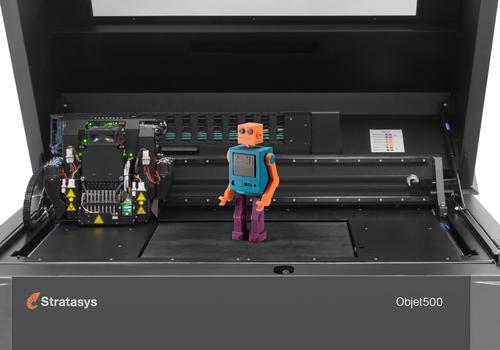 3D printer company Stratasys is working with CAD producer PTC to blend 3D-printing software with CAD in order to make sure CAD drawings will convert effectively to 3D-printed objects.
(Source: PTC)
Blending 3D Print With CAD
CAD companies are streamlining the path from software design to 3D-printed object, consolidating a multi-step process. "3D Printer manufacturers typically provide their own software so that 3D models can be printed," Craig Therrien, senior product portfolio manager at SolidWorks, told Design News. "This requires a multi-step step process -- export from the 3D CAD software, and then import, repair, and process in the 3D printer manufacturer's software."
In a move to streamline this process CAD producers are integrating 3D print requirements into CAD much the way 2D print programs are incorporated in MS Office products. "To speed up and automate this process, SolidWorks added the capability of printing directly to 3D printers," said Therrien. "This is very similar to printing any 2D document such as Word or Excel to a typical office printer. With the 3D model on the screen in SolidWorks you can simply click the Print 3D option and a print properties dialog appears so you can choose settings -- then you simply print."
Since there is a world of cost variables in 3D-printed materials, SolidWorks has also bundled cost estimates into its CAD tool. "We also enhanced SolidWorks Costing to provide automated cost estimation for 3D-printed parts to help make decisions like whether to 3D print your parts or manufacturer them another way," said Terrien.
In addition, SolidWorks has added capabilities to check and validate designs for 3D printing including:
Ability to change the model scale and to reorient the model to fit the print volume.
Ability to change the model scale. You can specify a scale factor to control the printed size of a model.
Ability to automatically identify faces that require supports. A preview tab lets you run a preview analysis to identify faces that require supports during 3D printing.
Ability to display striation lines resulting from layering. To determine whether the print resolution is sufficiently fine to produce the desired output, you can display striation lines on the model.
CAD With 3D structuring Analysis
CAD tools can now analyze the properties of the designed part without leaving the CAD program. "The software that does topology optimization allows you to get the ideal part with reduced weight that meets the structuring needs," Paul Sager, VP of product management at PTC, told us. "Then you run it through structural software and get a model of what the product will look like. Then you still have to run it through a program that will validate that it can be 3D printed. Only then can you 3D print it and produce the final part."
The process involves shifting the CAD design to separate software tools, processing the design, and then bringing it back into the CAD tool. "There are a lot of processes involved, a lot of steps that use three or four pieces of software," said Sager. In response, PTC decided to fold all of these processes into its CAD platform.
PTC also partnered with the 3D printer company Stratasys to connect its CAD programs into a 3D printer. "The user can now determine the available material, find out the time needed to print the part, and run checks around minimum size and wall thickness without having to leverage separate pieces of software," said Sager.