New processes are broadening the available techniques for creating and using powder metals. The result is a wider range of better-performing, and sometimes less costly, materials serving more applications. One of the biggest influences on powder metals is the rise of additive manufacturing (AM).
Traditionally, metal powders have been used to fabricate parts used in many different applications. These have been produced with several standard processes, including press-and-sinter, metal injection molding (MIM), and hot isostatic processing (HIP), said Harald Lemke, general manager and vice president of powder metallurgy, for NanoSteel.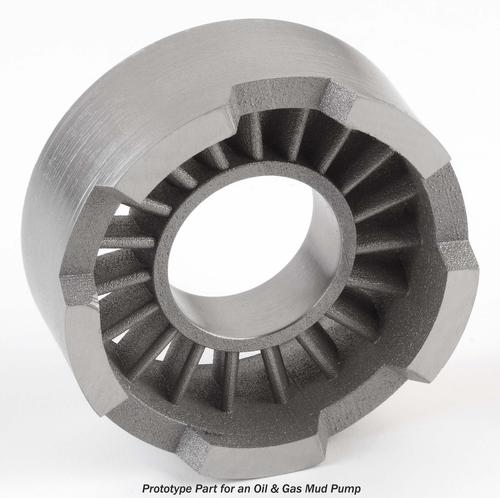 This oil & gas mud pump prototype part was produced using binder jet additive manufacturing with NanoSteel's metal powder developed specifically for this process.
(Source: NanoSteel)
The biggest powder metal (PM) segment is press-and-sinter, which represents about 70% to 80% of metal powder parts, said Lemke. Parts made with these processes are usually for products in the automotive industry.
Trends in Powder Metals
Making parts represents the vast majority of uses for metal powders, compared to welding and other uses. According to data from the Metal Powder Industries Federation presented by President Patrick J. McGeehan at POWDERMET2016, growth in North American metal powder shipments has been relatively flat for the last few years. During 2015, shipments of iron powders increased 1.73% over the previous year, stainless-steel and copper powders each increased 2.5%, and shipments of aluminum powders were the same.
The automotive industry's use of powder metals is experiencing both up and down trends. Sales of larger light trucks and SUVs, each containing more than 60 lb of PM parts, are up due to lower gasoline prices, said McGeehan. At the same time, the trend toward smaller engines with smaller transmissions produces lower volumes of parts typically made with PM, such as fewer connecting rods and bearing caps for engines, or smaller gears and carriers for transmissions. The effect of the growth in electric and hybrid vehicles is expected to become significant over the next decade.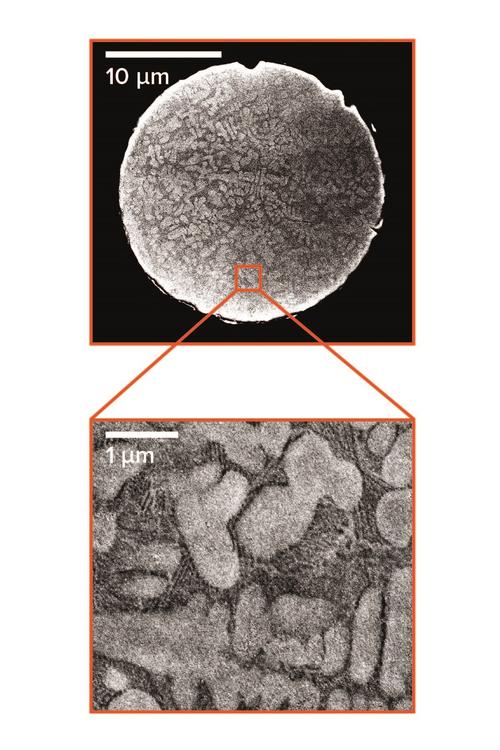 Shown here is the microstructure of NanoSteel's BLDR J-10 powdered metal for use in binder jet additive manufacturing.
(Source: NanoSteel)
But there's more interest in a wider variety of aluminum powders among automotive design engineers, including higher-strength alloys used with metal matrix composites. One example McGeehan gave was switching out a steel main bearing cap weighing 1.76 lb and substituting a PM-produced aluminum part weighing only 0.66 lb. "New lightweight PM alloys and novel PM processing techniques have the potential of reducing the weight of PM parts by 10% to 30%," he said.
For press-and-sinter processes, a maturing segment, McGeehan said powder metal suppliers are introducing high-performance lubricants and additives for better precision machining of PM parts. In other powder metals processes, growth slowed last year in MIM, primarily because of the drop in domestic firearms production. By weight, parts made with MIM are 32% medical/dental, 26% general industrial, 21% firearms, 7% automotive, 6% electronics, and 6% other. In HIP processes, aerospace applications grew while oil and gas uses fell.
The Rise of Metal Additive Manufacturing
McGeehan said the metal additive manufacturing (MAM) market currently remains small and limited to about 15 commercially available materials. Most leading metal powder makers are developing powders for MAM, many via gas atomization. "MAM's successful use in the aerospace and medical sectors continues to pave the way for future applications," he said.
Between 50 and 100 companies and organizations are pursuing MAM with development programs using metal powders. The leading MAM powder materials are 316 and 17-4 PH stainless steel, as well as cobalt-chrome and titanium, said McGeehan. Others include Inconel 625 and 718 alloys, platinum, molybdenum, and tungsten. Most installations producing metal parts with MAM are manufacturing short runs of 100 units or less. For those already in the PM industry, MAM is viewed not as a replacement technology, but as a complementary technology.