Motion control is an exact science, and sometimes it's not always easy to determine how much force and acceleration are necessary to achieve a desired motion profile, or even select which is the best motion profile for a particular application.
To make this problem a bit less challenging, H2W Technologies has placed a number of calculators on its website to help engineers determine the best motion profile for an application before choosing which product suits their needs.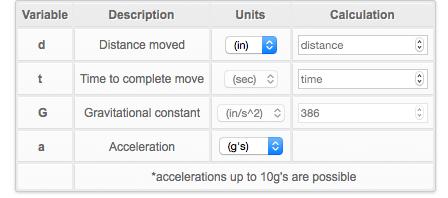 One of a number of calculators H2W Technologies has placed on its website to help engineers determine the best motion profile for an application before choosing which product best suits their needs.
(H2W Technologies)
H2W -- which designs and manufactures linear and rotary motion products used for motion control -- has posted a number of calculators for various types of motion control on its site, the company said. They include calculators for basic triangular motion profiles, trapezoidal motion profiles, sinusoidal motion profiles, and others that can determine the amount of force required if the user's profile does not correspond to any single motion profile mentioned previously.
[Learn more automation & control trends and developments at Pacific Design & Manufacturing, Feb. 9-11, at the Anaheim Convention Center.]
H2W also is providing guidance for duty cycles with calculators to determine what actual duty cycles would be, as well as to figure out how much force their motors will generate at a given duty cycle, the company said.
READ MORE ARTICLES ON MOTION CONTROL:
The calculators are available here. Among the products the company offers are a complete line of linear electric motors, including: single- and dual-axis linear steppers, DC brush and brushless linear motors, voice coil actuators, and AC induction motors. H2W also develops a line of ball screw, lead screw and belt driven positioning stages, as well as a variety of other motion-control products.
Other motion control products available from H2W -- which has 75 years of experience in the field -- include limited angle torque motors for compact and limited angular excursion rotary servo applications. Applications that can be developed with the company's products include industrial applications, baggage-handling machines, people-moving applications, and amusement-park rides.
Elizabeth Montalbano is a freelance writer who has written about technology and culture for more than 15 years. She has lived and worked as a professional journalist in Phoenix, San Francisco, and New York City. In her free time she enjoys surfing, traveling, music, yoga, and cooking. She currently resides in a village on the southwest coast of Portugal.
Like reading Design News? Then have our content delivered to your inbox every day by registering with DesignNews.com and signing up for Design News Daily plus our other e-newsletters. Register here!