Expanding the shared control of functionally interrelated motion axes and spindles on multi-station dial and rotary transfer machines is the chief benefit of CNC architecture developed by NUM Corp. of Naperville, Ill.
The company says that its enhanced Flexium+ 68 system transfers the control of a large number of motion axes from one NCK (numerical control kernel) to another within a CNC system. By using multiple NCKs and the axis-sharing capability of the system, "machine designers can implement control schemes for virtually any type of machine tool, regardless of its complexity," NUM reported.
Each NCK accommodates as many as 32 combinations of interpolated axes or spindles per station, and supports up to eight CNC channels. According to the company, each CNC channel can control any of these axes or spindles, run its own part program asynchronously or autonomously, or synchronize with any of the seven other channels. The only requirement is that all shared servo drives be connected to the first NCK in the system.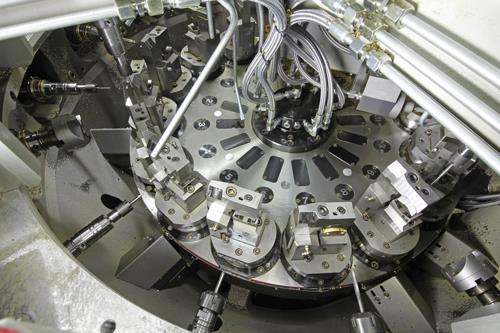 Adding workstations gives machine tools versatility. This Hydromat Epic rotary transfer model has 16 stations and uses 67 axes to machine lock bodies.
(Source: Hydromat)
Engineered for machines with as many as 32 shareable axes (linear, rotary, or measured spindles), the system allows hot-swapping their control from station to station without affecting production, said Steve Schilling, general manager. Previous Flexium versions allowed sharing across a maximum of eight channels. With the new system, machine designers can swap up to 32 axes to any number of channels.
[Learn more automation & control trends and developments THIS WEEK at Pacific Design & Manufacturing, Feb. 9-11, at the Anaheim Convention Center.]
Flexium+ 68 is for OEMs but can be retrofit. Schilling said it reflects an industry-wide trend toward greater production capability and throughput in machines -- objectives that are achieved in the latest models with a high number of stations, each equipped with a multi-axis machining head.
The system is scalable and can be used in machines with more than 200 interpolated axes and spindles, and over 50 CNC channels, according to the company.
READ MORE ARTICLES BY PAT TOENSMEIER ON DESIGN NEWS:
The system meets a range of production needs, from fabrication of small, highly detailed watch parts on a rotary indexing table to machining of crankshafts or other large parts on a transfer line. "It is suitable for any workpiece that goes through a line of machine tools," Schilling added.
NUM states that the system uses "advanced … resource allocation techniques [that] share control across multiple CNC kernels" to regulate a "high number of functionally interrelated groups of motion axes."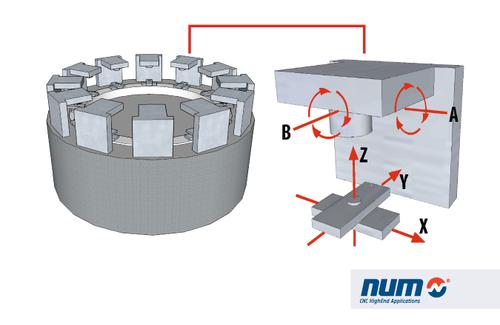 NUM Corp.'s Flexium+ 68 CNC architecture controls many functionally interrelated groups of motion axes on multi-station rotary transfer machines and production centers.
(Source: NUM Corp.)
The company, in fact, describes the operation as a "timeshare" arrangement. The dedicated CNC channels that operate each station control the multiple axes and spindle movements of machining units and pass control from one channel to another on the fly.
Pat Toensmeier has more than 30 years of experience writing for business-to-business publications. His main areas of coverage have been defense, design, manufacturing, technology and chemicals, especially plastics and composites. He has reported extensively on developments in these areas from the U.S. and Europe, and covered industry events as well in Brazil and Asia. Toensmeier has held various positions at major publishers such as the McGraw-Hill Companies and Hearst Corporation. A graduate of the University of Missouri, he is a contributing editor for several print and online publications. Toensmeier is based in suburban New Haven, Conn.