The REACH regulation in Europe has changed, and for many industries such as automotive, the changes will have a profound effect on doing business. The European Union's (EU) REACH (Registration, Evaluation, Authorization and Restriction of Chemicals) was updated last September, with new guidance released Dec. 15, 2015. The new rules are more stringent. It used to be that a product such as a car was OK if it contained less than 1% of a REACH chemical. Now it's not OK if an article within the car –- such as a button battery -– contains 1% of a REACH chemical.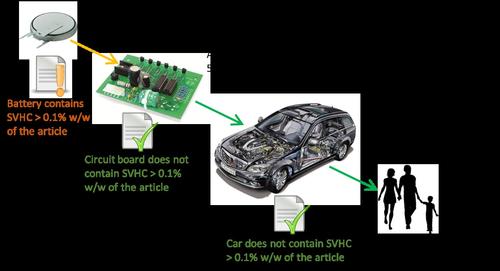 This diagram shows how auto electronics would be viewed before the update. If a button battery has more than 1% of a REACH chemical, it would pass, since the chemical would be less than 1% of the entire car.
(Source: BOMcheck.net)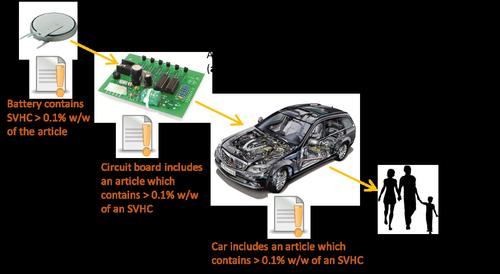 This diagram shows how auto electronics are viewed after the update. If a button battery has more than 1% of a REACH chemical, it will not pass, even though the chemical constitutes less than 1% of the entire car.
(Source: BOMcheck.net)
The change was prompted by a lawsuit filed by a group of six member states (Austria, Belgium, Denmark, France, Germany, and Sweden). It began with France interpreting the original aim of REACH more strictly than it was originally deployed. France was joined by five other EU members.
The EU initially dismissed the strict interpretation, so the group of six countries sued and won. "This has been a long-running dispute between the European Chemicals Agency (ECHA) and the six member states," Aidan Turnbull, director of BOMcheck.net told Design News. BOMcheck.net is an industry consortium with 750 member companies that maintains a database of REACH compliant parts. "ECHA and the French government disagreed at the outset in 2007 on how REACH was be interpreted, and ECHA had been refusing to change its interpretation."
READ MORE ARTICLES ON REACH and CONFLICT MATERIALS:
The French thought REACH should be enforced by individual articles within a product rather than a total assembly. "The French government decided it would interpret REACH themselves and implement it," said Turnbull. "The French industries challenged the French government's view that ECHA was wrong. The French industry thought they could squash it, but it escalated." This fall the EU ruled in favor of the French and its five allies, so ECHA had to publish new guidelines.
Parts of Products Now Have to Qualify
The line of reporting –- 1% of a product's weight -– hasn't changed for REACH. But the definition of a product has. "If you supply a button battery, you have to explain whether any of the 168 REACH chemicals are in excess of 1% of the item's weight. You have to tell your customer what you are supplying in the article," said Turnbull. "Previously if you took two articles and put them together you made a new article, and you had to report on that article. Under the new definition, when you connect two articles, you still have two articles."
The new ruling changes the landscape for companies such as automakers that produce large products with multiple devices within the product. "If you're a car manufacturer, you could effectively ignore the REACH requirements since none of the chemicals in the car's electronics could total more than 1% of the car's weight," said Turnbull. "However, your car's circuit board has a control unit with a back-up battery, and that battery might contain more than 1% of a REACH chemical. That means you have to tell your customers that this car includes an article which has more than 1% of the chemical by weight."
Rob Spiegel has covered automation and control for 15 years, 12 of them for Design News. Other topics he has covered include supply chain technology, alternative energy, and cyber security. For 10 years he was owner and publisher of the food magazine Chile Pepper.