Known as National Instruments' PXIe-5840 module , the new product distinguishes itself by offering five times as much bandwidth as its predecessor. "The engineers who care most about this are the engineers who need bandwidth -- automotive radar customers and semiconductor customers," David Hall, principal product marketing manager For National Instruments RF and Wireless group, told Design News.
Hall said the new product will be shown at the NIWeek 2016 show and conference, taking place in Austin, TX, next week.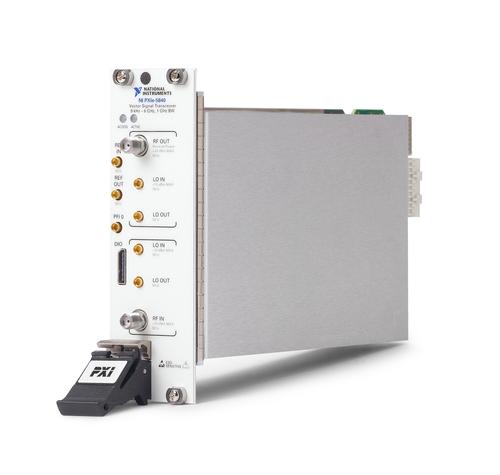 National Instruments' new PXIe-5840 offers five times the bandwidth of its predecessor.
(Source: National Instruments)
The platform-based PXIe-5840 is actually the second generation of the technology. It combines a 6.5-GHz RF vector signal generator, a 6.5-GHz vector signal analyzer, user-programmable FPGA, and high-speed serial and parallel interfaces. It also fits in a two-slot PXI Express module. Like its predecessor introduced in 2012, the PXIe-5840 is essentially a software-based instrument rather than a conventional test box. Engineers can program its FPGAs in National Instruments' LabVIEW visual programming environment.
The company added that the PXIe-5840, which costs in the $65,000 to $75,000 price range, offers a significant cost benefit over conventional collection of discrete instruments. "Without it, you'd have to spend $250,000 to get the same performance," Hall said.
READ MORE ABOUT TEST INSTRUMENTS:
In addition to targeting semiconductor and automotive manufacturing, National Instruments is aiming at test engineers working on Internet of Things products, 5G wireless design, and radar prototyping. The company said it is already teaming with a wide variety of customers, including Audi AG, which is using it to test automotive radar systems on autonomous vehicles.
"We already have customers who are using it in ways we never expected," Hall said.
Senior technical editor Chuck Murray has been writing about technology for 32 years. He joined Design News in 1987, and has covered electronics, automation, fluid power, and autos.