With an eye toward building space-qualified radio-frequency (RF) components for Earth observation and science instruments, the European Space Agency (ESA) has 3D printed a satellite antenna designed as a single part. The antenna is now being tested in the agency's Compact Antenna Test Facility, located at ESA's ESTEC technical center in the Netherlands.
The prototype antenna is the agency's first dual-reflector type to be 3D printed, according to its designer, Maarten van der Vorst. It incorporates the two reflectors and a corrugated feedhorn, and was designed for future mega-constellation, small satellite platforms. The one-piece part was first printed in a polymer. To meet RF performance requirements it was then plated with copper. Swiss company SWISSto12 produced two different antennas for the ESA, using a special copper-plating technique to coat the complex polymer shapes.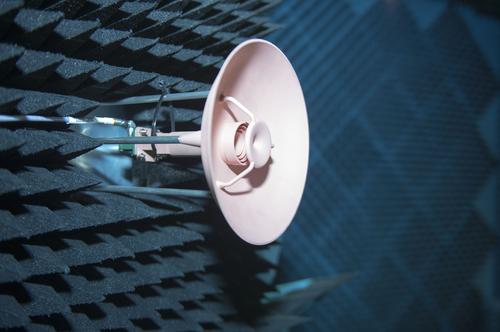 A prototype 3D-printed antenna being put to work in the European Space Agency's Compact Antenna Test Facility, a shielded chamber for antenna and radio-frequency testing.
(Source: European Space Agency)
Although further qualification would be required to make the antenna workable during actual space missions, the design team is interested more in what the consequences might be on RF performance of the low-cost 3D-printing process. "As a next step, we aim at more complex geometries and higher frequencies," said van der Vorst, an engineer in ESA's Electromagnetics & Space Environment Division.
Agreement between the actual performance of the one-piece antenna and its performance as predicted by simulation was very close, according to antenna test engineer, Luis Rolo. Such excellent results were made possible by using the same simulation model to 3D print the antenna in a single piece, thus removing potential sources of assembly errors and misalignments.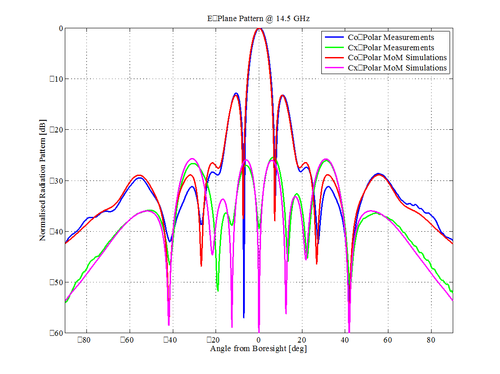 Comparing simulated and actual measured 14.5 Ghz radiation patterns from ESA's first 3D printed dual reflector antenna.
(Source: European Space Agency)
The Compact Antenna Test Facility test range, a shielded chamber for antenna and radio-frequency testing, is isolated from outside electromagnetic radiation. To simulate space, its inside walls are covered with anechoic foam for absorbing radio signals. The range is part of ESA's suite of antenna testing facilities for smaller antennas and subsystems.
For several years, the agency has been involved in multiple 3D printing and additive manufacturing (AM) projects aimed at space. Previous work includes sponsoring R&D by Airbus Defence and Space for creating a 3D-printed metal spacecraft hinge. The titanium brackets for telecommunications satellites were made using EOS' DMLS (direct metal laser sintering) process.
READ MORE ARTICLES ON 3D PRINTING:
The ESA also leads a program to design a large-scale 3D printer that will work in space making metal components. Called AMAZE, the European Commission project began in 2013 and is looking at different metals additive manufacturing processes to be evaluated at pilot factories.
Ann R. Thryft is senior technical editor, materials & assembly, for Design News. She's been writing about manufacturing- and electronics-related technologies for 28 years, covering manufacturing materials & processes, alternative energy, and robotics. In the past, she's also written about machine vision and all kinds of communications.