As pressure grows for design teams to be quicker and reduce errors, they are including their suppliers in design input and change procedures. It is a behavior change that isn't based on Big Data, IoT, or 3D printing, but rather on necessity. And instead of technology providers leading the way, product producers are turning to design software vendors, saying, "Help us make this work."
Reasons for Collaborating
Product producers have shifted their approach to design. Efficiency and speed have become the top values. "A decade ago, design was all about the ego and getting the design perfect. That's changed, and now it's all about speed," Kent Kilmer, VP of marketing for Arena Solutions, told Design News. "Now there's no loss of dignity in failure. The new motto is: Fail fast and move quickly."
The reasons for opening up the design process to include suppliers vary with each industry.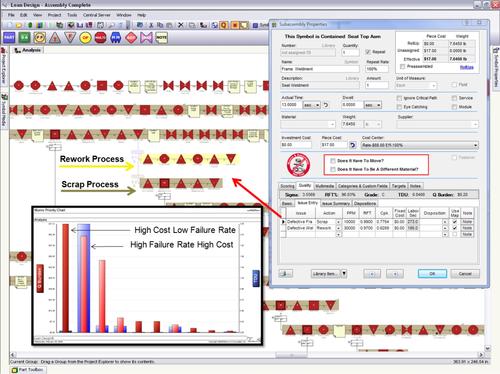 Design Profit from Munro and Associates allows for collaboration across many teams (and supply chains) tracking cost, weight, manufacturing steps, quality data, MRL, and a myriad of other metrics while maintaining cross user compliance for risk management in the design phase..
(Source: Munro and Associates)
Automotive and aerospace have been the long-time leaders in design collaboration. In both industries, the vast complexity of products requires intimate relationships between OEMs and suppliers. After decades of this, auto and aerospace have it pretty well worked out.
MORE FROM DESIGN NEWS: Product Design As a Team Sport
"With each industry there's a sweet spot. Automotive and aerospace were first in collaboration because they're so complex," Sandra Mitchell, product manager of Teamcenter Supplier Collaboration at Siemens PLM, told Design News.
"In auto, one of the big sweet spots is change. OEMs are looking for a quick turnaround. If you don't have an efficient way to collaborate, you have to make an educated guess on the cost of the change and the lead time. That can put you in danger of missing your target," Mitchell said. "Time versus cost is big with auto. You need to get everyone's input before you lock everyone in."
Efficiency from design collaboration is spreading beyond automotive and aerospace. "We've seen a lot of collaboration activity in electronics and semiconductors. They've been interested managing changes and making sure their suppliers have up-to-date information on design changes," Mitchell said. "The biggest issue is being able to get all of their changes out to suppliers. We get a lot of requests for help from electronics companies, and it's spreading to other industries."
One of those is the medical device industry, according to Alistair Munro, Munro and Associates' director of business development for lean design for Canada "I have seen a surge in collaboration in the medical device industry, where they're incorporating suppliers early on in the design process," Munro said. "The more forward thinking the company, the more suppliers are involved in the concept and early design phase."
Managing Suppliers
One of the major reasons for collaborating with suppliers is to keep track of who's doing what, and keep track of it early. "Everyone realizes they need to manage their suppliers early in the design process. Once you get so far into your design, things are locked in, and [any change] affects cost and quality," Mitchell said. "If suppliers want to give you some input, they need to do it fast before things are set."
One of the recent shifts in design collaboration is that auto and aero now want to extend the collaboration beyond the top tier in order to gain even greater efficiencies. "Now they're trying to involve the other suppliers. That can be tens of thousands. That's quite a challenge. You might not even be able to manage it," said Mitchell. "The challenge is reaching every one and not just the top 10 percent."