Nominations are now being accepted for the ARM TechCon 2016 Innovation Challenge Awards. The Innovation Challenge is a free contest open to all exhibitors at ARM TechCon 2016 (October 25-27, 2016, in the Santa Clara Convention Center). The Challenge seeks to highlight the most innovative exhibitor products developed between October 1, 2015, and October 1, 2016.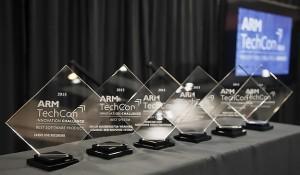 The ARM TechCon conference facilitates the collaboration between hardware and software communities with the goal of creating a more integrated and collaborative design environment. The event, managed by Design News' parent company UBM, brings together hardware engineers, software developers, and system architects working across a broad range of applications, from wearables to drones to servers.
Eligible exhibitors have until the October 5 deadline to submit products for the following categories: Best Software Product, Best Chip Product, Best System, and Best IoT Product.
Submit your most innovative product/s by the October 5, 2016, deadline: Innovation Challenge Submission To learn about Exhibitor or Sponsorship opportunities, please contact: [email protected].
you can also register to attend the conference here.
A panel of ARM experts and Design News editors will select 12 finalists, 3 in each category. The finalists will be featured in a blog on this site and included in an exclusive ARM Innovation Challenge Tour during the event. This tour, to be led by a Design News editor, will provide attendees with an up close and personal look at each of the 12 Award finalists.
Finalists will also be in the running for the Reader's Choice Award (voting opens two weeks before the ARM TechCon 2016 on the Design News website) and for the Best in Show Award, as voted by attendees during the event.
The awards ceremony will take place during the show.