Design teams are operating in a business environment that increasingly requires them to collaborate and share data across extended teams, multiple organizations, and widespread locations. Autodesk decision-makers tell Design News that the company's customers are demanding a collaboration solution that makes it easier to work with such diverse stakeholders. Particularly they're looking for a solution that eliminates project bottlenecks, such as the time-consuming and error-ridden process of shuttling design reviews and revisions back and forth among team members.
That's what's driving the development efforts for the company's A360 platform, a cloud-based workspace for designers and their larger networks. A360 provides data management and collaboration capabilities as a complement to Autodesk's cloud-based CAD/CAM design environment, Fusion 360. A360 can also work as a stand-alone product.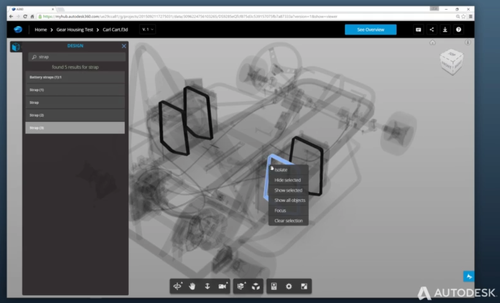 According to Daniel Graham, senior product manager at Autodesk, the company is concentrating considerable resources on cloud-delivered applications like Fusion 360 and A360. "This really changes the scope of what our customers have to undertake in terms of hardware, software, infrastructure, and IT," Graham told us. "It allows customers to work with teams in their own organizations or around the world, without the cost, complexity, and overhead that comes along with traditional solutions. Removing those complexities allows them to focus on their workflows. It changes the decision-making process, making it more around the functionality they need."
The A360 group pushes out an update every two weeks, said Graham, while working on major new versions released on longer time frames. Late last year, Autodesk introduced a major release of A360 that redesigned the product from top to bottom, migrating from a social-media paradigm to a more data-driven orientation.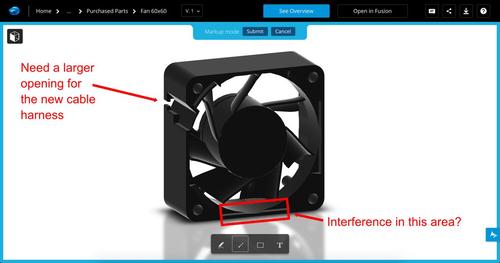 Developers have worked to make A360 easier-to-use for a variety of users across the enterprise, while placing project data at the center of the user experience. A360 displays in a Web browser, without requiring a download; or through a mobile app on a phone or tablet. The solution integrates with Fusion 360, so an engineer can share a full model with team members and stakeholders.
Graham said the project is the primary organizing unit in A360, with each project carrying "its own set of data, people, calendar, and wiki."
As its central capability, A360 provides a shared workspace for viewing, sharing, and reviewing 2D and 3D design files and is compatible with some 50 file formats. A user can interact with a model, moving around it, zooming in, doing a sectional analysis, or exploding the model to drill down into each part's data. At any level, the solution provides visual arrays of related data, such as renderings, animations, simulations, sheet files, or external references. A360 keeps track of versions, making sure everyone is working on the most recent file, while allowing access to the version history.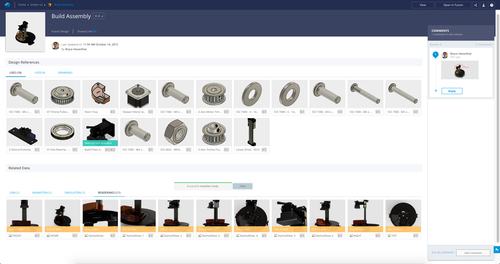 The newer design includes an immersive Live Review feature that lets multiple participants join a review session at the same time. Users can access a session on both desktop and handheld devices. More recent updates have added such features as project calendars, mobility enhancements, 3D measuring, and a more robust commenting service that allows session participants to home in on specific objects and points on a drawing.
With this Live Review capability, a team leader or designer can turn a design into a shared workspace, prompt a review session with team members, and invite others to join the session or view a design through a link in an email or chat. During a session, participants can pose questions or add comments directly into the file, even making markups and text comments right on a drawing. The project leader can set permissions and login credentials for participants.
Graham stressed that an easier-to-use workspace is a boon to non-engineers on the broader product-development team and beyond. "Traditionally, extending collaboration to non-technical stakeholders would require them to open a model in a CAD application," he said. A360 allows such users to interact with a design at an appropriate level. "For customers, there's a lot of value in being able to do interrogations of a design from right inside the viewing environment. They can provide comments, do a markup, or draw a box to call attention to a particular area of the design."
Autodesk provides two account levels for A360: a free individual account, and a team account on a subscription basis for $120 per year per user. A360 is complimentary with a subscription to Fusion 360, which is $300 per year per user.
[images via Autodesk]
Learn more at Atlantic Design & Manufacturing June 14-16, in New York.
Al Bredenberg is a writer, analyst, consultant, and communicator. He writes about technology, design, innovation, management, and sustainable business, and specializes in investigating and explaining complex topics. He holds a master's degree in organization and management from Antioch University New England. He has served as an editor for print and online content and currently serves as senior analyst at the Institute for Innovation in Large Organizations.