A generational shift has come to the software platforms that manage design. Traditionally mechanical products are embracing more and more electronics and collaboration among teams is becoming more vital than ever. Coinciding with manufacturing's shift toward Industry 4.0, Product Lifecycle Management (PLM) and Product Data Management (PDM) are experiencing a series of advancements aimed at improving integration and interoperability, while also preserving a digital thread of a product's development.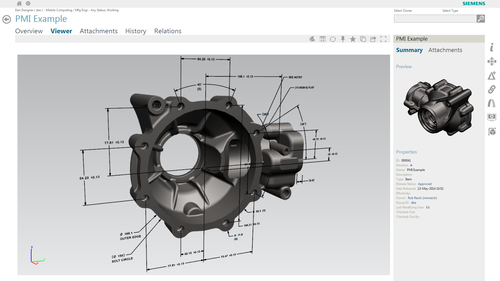 Within the PLM environment, the user can view and investigate the 3D CAD model and product and manufacturing information prior to selecting the part or assembly for reuse.
(Source: Siemens PLM)
Electronics are Bending Mechanics
One of the biggest changes is that systems that previously focused primarily on mechanics are beginning to accommodate electronics. "What's trending in PLM is a lot of electronification," said Steve Chalgren, EVP of product management at Arena Solutions. "Companies are building high-tech products even if they're not in a high-tech industry. The refrigerator [for example] used to be a mechanical device. Now it has significant electronics connected to sensors that tell you whether your door is open. That gets you involved in things such as data centers, routers, and firewalls."
The result has been a shift to greater use of PLM. "People who couldn't spell PLM now have it as a budget item because of the greater use of electronics," said Kent Killmer, Arena's VP of marketing. "Companies are unequipped to deal with these electronic parts. They're not used to them, and now they have to deal with the regulatory environment of these parts. That includes RoHS and REACH. PLM deals with those aspects effortlessly."
The Design Team Is Connected to Every Team
Collaboration has become a must as product development teams move to speed time-to-market. Rather than shifting the product from one team or discipline to another -- say from CAD drawings to material analysis to simulation -- multiple disciplines can weigh in simultaneously. "Collaboration is one of the main functions of a PDM system now. Many people are working on the same assembly at the same time, and collaborative tools let you see who's working on what," said Kurt Lundstedt, product manager at Dassault Systemes' SolidWorks. "Now you can do texting and [instant messaging], and run real-time meetings through a Web interface and save it as a threaded discussion. Everybody is texting now, and they want that capability to be in their design tools."
The Product Is Getting Connected to Users
Connectivity is now going out to the product's customers via the Internet of Things. The customer data can be brought into the design process to enhance the product in its next generation. "Our customers are now connecting across the Internet to improve the next generation of the product. The information from the connected product is brought into the PLM," said Francois Lamy, VP of PLM solutions at PTC. "I can use a dashboard in the PLM system to show feedback on the product. When I work on the next generation, I know how to improve it because I'm connected to the users and they have provided information on how the product is being used."
Design Platforms Are Gaining Interoperability
Most products require a number of software tools through the design stage. Traditionally, the design team shifts the design to disciplines such as computer aided design, modeling, or materials assessment. Then they wait. More and more, these tools are connected to the design platform to make the design process more efficient and speed time-to-market. "More data is getting integrated into PLM," said Dennis George, Teamcenter marketing manager at Siemens PLM. "A lot of different tools are linking to PLM. It's not always being integrated, but it is getting linked to the PLM system so the data becomes part of the bill of materials (BOM) to provide an accurate account of what's in the product."
The interoperability of multiple design systems also keeps the design team from wandering into the wilderness. For example, designers can find out whether a particular material will meet weight and stress limits in the digital world and use the PLM plant to share the results across the various disciplines. "You start with requirements and targets in performance and use it to define an architecture or model. Then the different systems talk with each other and start documenting and interfacing," said George. "You can do multi-domain simulation and see early in the process if you're going to hit your targets, such as mileage. You can simulate fuel consumption and power even while you design the grill. Before you build the design, you verify it in a digital world."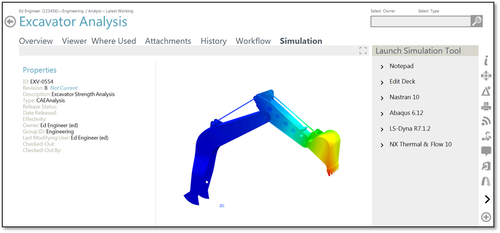 The diversity of data managed by PLM for design of today's complex products includes MCAD, ECAD, CAE, embedded software, and much more that must be linked to stay in-sync with changes.
(Source: Siemens PLM)
George noted that PLM often provides the center of the design, managing data from multiple sources. "The digital platform manages all the data and keeps it related to make sure the right data is shared with the right people at the right time," he said. "Somebody changes the design and if the change isn't shared and others start changing the design, then you waste a lot of money. PLM is keeping that all together. It's threading changes through the closed loop and everyone knows what's been done."
Design Is Going Mobile
An entire generation of Millennials expects their software tools to work at the same tech level as their smartphones. And PLM companies are now facilitating that. "We have introduced a new Web client that you can use on any browser. That includes the ability to access the design on an iPhone or Android," said Lundstedt. "The Web client is browser-independent, so you can use any Web browser to access the same data that you access on your desktop. If you want to improve a drawing and you're away from your desktop, you can do it on you iPhone."
Companies Are Creating a Shareable Digital Thread
Part of the effort to keep design coherent and in harmony with its requirements through the design process is to create a digital thread that can be shared. "One of the areas we're building out is called system-driven product development. It provides a digital thread of requirements," said Stephen O'Lear, Teamcenter senior marketing manager at Siemens PLM.
The requirements get more complex as the product moves along in the design process. Requirements include market issues as well as governmental regulations. The PLM system is tasked with keeping the process on track. "You have to take requirements through system design and use them to outline product design and performance," said O'Lear. "Then you take the design of the product to go back to verify it across the requirements. As you progress through the product design, you already know the physical product is going to work."
Rob Spiegel has covered automation and control for 15 years, 12 of them for Design News. Other topics he has covered include supply chain technology, alternative energy, and cyber security. For 10 years he was owner and publisher of the food magazine Chile Pepper.