There's been a lot of R&D activity recently in 3D printing at the nanoscale, as we've reported. But that's all R&D. Meanwhile, 3D printing at the microscale is becoming much closer to reality in manufacturing. Optomec's Aerosol Jet systems -- recently starring in the first 3D printing in the mass production of consumer electronics -- have now been used by several customers for printing 3D polymer and composite structures at the micron scale with embedded electronics and biomedical applications.
Customers have been asking for, and exploring, this new ability for several months, Mike O'Reilly, Optomec's director of Aerosol Jet product management, told Design News. "We discovered there's a large and growing appetite for the ability to print microscale, freeform, freestanding, polymer structures and smart devices," he said. "In medical devices, this is especially true for microfluidic channels or microneedles." This new ability could help reduce the size, as well as the cost, of new biomedical and electronics products.
The technique is also in demand for 3D printing microstructures on top of existing components, such as semiconductor chips, or on products such as industrial parts or medical devices. In electronics, one example is the freestanding, millimeter-wave dipole antenna printed on top of a transceiver chip shown in the photo above.
Aspect ratios greater than 100:1 have been achieved, without the need of support structures. Conformal 3D conductive metal traces and printed functional components, such as antennas and sensors, can also be 3D printed onto these microstructures using Aerosol Jet systems. Structures can be printed on nearly any surface geometry by controlling the rotation and tilt of the print head. These 3D microstructures can be printed from a variety of materials, including polymers and some composites. A whole class of UV-curable polymers, which are typical photopolymers, can be embedded with metal or ceramic materials, including fibers, said O'Reilly.
---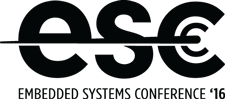 3D Printing's Brave New World. Ann Thryft will lead a panel discussion on one of the hottest topics in manufacturing: 3D printing. Come hear "3D Printing: The Brave New World of Manufacturing" at the Embedded Systems Conference. Sept. 21-22, 2016 in Minneapolis. Register here for the event, hosted by Design News' parent company UBM.

---
Ultra-high resolutions with lateral feature sizes down to 10 microns, and lateral and vertical build dimensions from 1 micron to 100 nanometers, respectively, are possible. The technique combines Optomec's Aerosol Jet fine feature printing system with a proprietary, in-situ, UV curing method that makes it possible to rapidly solidify the microstructures on-the-fly.
The method combines local deposition with local curing, which is key for the highest possible resolution features, said O'Reilly. It also makes the process more economical in terms of material consumption, and creating fully functional 3D components with one machine eliminates additional manufacturing steps. A technical paper on the technique published last fall in the Journal of Micromechanics and Microengineering gives further details.
"Is any of it in production yet?," said O'Reilly. "No. Is there still more work to do? Yes. But some of our early adopter customers have already developed next-generation applications for microfluidic channels and smart devices."
READ MORE ARTICLES ON 3D PRINTING:
Ann R. Thryft is senior technical editor, materials & assembly, for Design News. She's been writing about manufacturing- and electronics-related technologies for 29 years, covering manufacturing materials & processes, alternative energy, and robotics. In the past, she's also written about machine vision and all kinds of communications.