Seeing all of the YouTube videos of robotic arms that write on dry-erase boards I knew I'd have to a make one of these my next project. Since I'm really into cars I thought, what better approach than a car-like robot that writes on paper as it travels? This project is about 50% 3D-printing/mechanical and about 50% electronics/software. I've been an electronic design engineer for 35 years, but I only got into 3D printing about a year ago. I love projects that combine both.
My basic concept is that the X-axis pen motion will be the vehicle's motion forward or backward. The Y-axis travel will be provided by a linear servo motor. The Z-axis is the pen height, driven by the small blue servo motor through the 3D-printed arm with a clevis at each end: Down = tip touching the paper to write; Up = tip lifted slightly from the paper; Lift = pen lifted into a park position which allows room for the pen cap to be put back on.
Overall Assembly Parts List
InkBot PCB (3.3" x 3.0" double sided), assembled, see PCB parts list in full instructions
Wiring Harness (see document " InkBot Chassis Wiring Diagram.pdf" in full instructions)
including various female .1" sp. connectors to match all PCB headers
Bluetooth Module JY-MCU from dx.com or other source
Small Servo for Z-axis
Large Servo for Y-axis Futaba S3003 with EMS Linear Servo conversion kit installed
Power Switch, mounts in chassis
Battery Pack (holds 4 AA batteries)
Easy Driver stepper motor driver buildd, based on Allegro A3967
Stepper Motor NEMA11 Bipolar Dual-shaft 1.8deg/step
3D printed parts, 13 pieces / 11 designs, see SketchUp files including in full instructions
.062" fiberglass sheet, as required, see outline drawings in full instructions
Wheels / axel, see description in main write-up above
Various sheet metal & machine screws,
note things mounted to fiberglass sheet tend to use flat-headed screws directed upwards through
Sheet because there isn't enough ground clearance for pan-head screws
Click the image below for a slideshow of the build instructions.
And click here to download the full build instructions for InkBot along with complete schematics and diagrams, firmware, and 3D printer design files.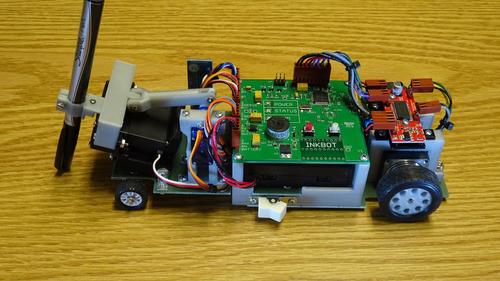 I started development by shopping for a stepper motor with dual shafts. Given that, I could just put wheels directly on the shafts and take advantage of the fact that I only want the robot to go forward and backward, as straight as possible. I based it all on the geometry of a 32 x 32 line-segment character font, approx. 0.65 square inch, with the X-axis figure inclusive of the space between characters.
I calculated the wheel diameter to make each of the 1.8˚ steps draw a very short line in the X-axis, 1/32 of the allowed character width. The wheel diameter in turn established the limit on the stepper motor size, which led me to the NEMA 11 form factor. With a 1.1 square inch stepper motor mounted directly to .062-inch fiberglass sheet, using the target wheel size, there would still be (a very small amount of) ground clearance.
Do you have a cool, original, homemade gadget collecting dust in your garage? Give us the details at DesignNews.com/GF, and you may receive $500 and automatic entry into our $6000 Gadget Freak of the Year contest!
[All images courtesy Kerry Erendson]
---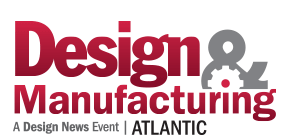 Robotics Rocks. Robots are everywhere, and the data they collect can be used to improve your bottom line. Learn how at Industry 4.0: Smart Manufacturing, part of Atlantic Design & Manufacturing Expo. June 16 in New York. Register here for the event, hosted by Design News' parent company UBM. Enter promo NY16DN for a FREE Expo pass & 20% off Industry 4.0 Conference.

---