Watching the recent activity in electric vehicles (EVs) and plug-in hybrids, it's easy to wonder if there's a thread of consistency in all this, particularly in the area of batteries.
Take, for example, the forthcoming Prius Plug-in Hybrid. It employs a relatively small (160kg), 5.2kWh lithium-ion battery. The small battery results in an all-electric range of just 13 miles, but the strategy seems to make sense for consumers who mix regular short trips with occasional longer ones. Automotive industry analysts expect Toyota's strategy to hit a sweet spot with consumers, in part because the small battery translates to lower cost and shorter recharge times.
So the trend is toward smaller batteries, right? Wrong. The Prius plug-in isn't necessarily a harbinger of what's to come.
While Toyota prepares to launch its new plug-in Prius, pure electric cars are headed in the opposite direction. Tesla's highly anticipated Model S starts with a 42kWh battery, and works its way up from there. Higher-end versions of the Model S will incorporate battery packs of 65kWh and 85kWh. We're talking size here. The smaller packs are said to have approximately 5,000 cells, while the bigger ones incorporate 8,000 cells and weigh about 1,200 pounds.
Meanwhile, Chinese automaker BYD is preparing to launch its e6 electric vehicle, which is expected to use a 72kWh battery pack. And Rolls-Royce is testing its 102EX Phantom Experimental Electric, which uses a 1,400lb, 71kWh battery pack. There's a catch, though: Rolls-Royce engineers fear the 71kWh battery may not be big enough.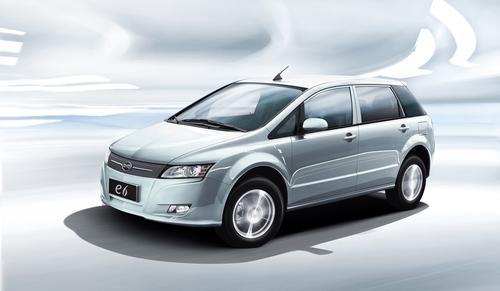 BYD's e6 electric vehicle will use a massive 72kWh battery.
Believe it or not, however, there's a thread of consistency in all this. In the short term, automakers that expect to appeal to the masses, as Toyota does, are trying to keep costs down by minimizing the battery mass. Toyota engineers recently told me that every mile of all-electric range adds about $500 to the initial cost of its vehicles. With costs mounting up so quickly, they fear a fatter battery would price them right out of their sweet spot.
But in the long run, even Toyota admits battery sizes will go up. "All of the automakers are looking at different places to set their electric range," Justin Ward, advanced powertrain program manager for Toyota, told me. "Ultimately, though, we may find that the best place for EV range is somewhere between ours and the Volt's." (The Volt has a 16kWh battery and a 40-mile range.)
Industry experts agree that battery capacities will rise. I spoke to Dave Hurst, senior analyst for Pike Research, who said, "In late 2012 and early 2013, we expect to see the cost of batteries start to decline, as a lot of the new lithium-ion plants come on line. Once that happens, you'll see an upward trend in battery size."
Right now, the question is: How upward will the trend be? Hurst estimates that EV batteries now cost $800/kWh to $1,000/kWh to manufacture, with cooling systems and battery management electronics included. He foresees that figure dropping to $650/kWh or $700/kWh as new plants open up in two years.
Automakers, who typically plan five years ahead, are taking those figures to heart. If the prices drop as expected, and if energy densities rise, they'll be able to pack more capacity into tomorrow's electric cars.
But they know the costs will still be high. Even at the reduced cost of $650/kWh, a 40kWh battery could theoretically run a mind-boggling $26,000 to make.
In the end, the big automakers, such as General Motors and Toyota, will probably tread lightly in this area. Yes, they'll plan for slightly larger batteries, but they first want to gauge consumer interest.
"Whether it's $1,000 or $600 or $200 per kilowatt-hour, it's still a cost that the consumer has to absorb," Ward says. "If they're not going to use the extra (electric) range, what's the sense in paying for it?"