In recent months we've seen a slew of announcements about design software companies partnering with other design software companies to create easy integration of differing tools. It's a mix and match of design software coming together in order to make life easier for the design engineer who has to manage multiple tools (PLM and CAD) or multiple versions of the same tool (CAD programs by different vendors).
PLM companies are making it easier to integrate with multiple CAD programs, just as CAE and visualization tools are becoming easier to assess from PDM platforms. Recently BigLever Software, a provider of product line engineering (PLE), has partnered with No Magic, a model-based engineering (MBE) firm, to deliver an integrated PLE/MBE solution.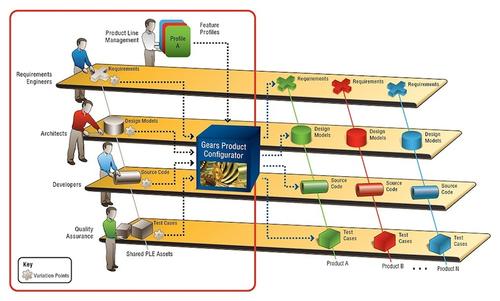 This diagram illustrates product line management.
(Source: BigLever Software)
The new integration of design software tools combines PLE's feature based variation management capabilities with the visualization, analysis, verification, and validation capabilities of MBE. The integration was designed to help companies develop product lines with greater efficiency as well as increased product quality and scalability while reducing complexity.
By partnering with No Magic, and bringing the company's MagicDraw tool into the PLE Ecosystem, BigLever wants to create a new dimension for MBE that combines PLE's feature-based variation management tools with MBE capabilities.
The essence of PLE is the ability to efficiently manage multiple attributes of a product. The tool addresses product complexity by simplifying the creation, delivery, maintenance, and evolution of a product portfolio. "PLE is about managing the varying features in a product family," Charles Krueger, CEO of Big Lever, told Design News. "It's all about lowering the overhead of a product family while managing the variations. It's about efficiency and time-to-market and managing a portfolio of different products."
A simulated visual of automobile features
PLE is used frequently in auto manufacturing, as auto makers have to manage a wide range of features. "When you buy a new car, there are a lot of different features. The features constitute the different aspects of the product. Take a feature like a lane-keep. The implications of the presence of the feature requires software, lights, actuators, and electronic steering," said Krueger. "For every product in the portfolio, PLE determines what features are in and what features are out.
In combination, the PLE/MBE integration gives the user the visual representation of a particular combination of features. "The features determine what the model includes and excludes. Once the configuration is complete, the model shows them included in the product," said Krueger. "You get the source code to run on the automobile from BigLever, and the No Magic model shows the features working in configuration. You can take the PLE source code and run an MBE simulation."
Rob Spiegel has covered automation and control for 15 years, 12 of them for Design News. Other topics he has covered include supply chain technology, alternative energy, and cyber security. For 10 years he was owner and publisher of the food magazine Chile Pepper.