Carmakers are perpetually in a frenzy of innovation. Competitive pressures from new players like Tesla, the maturing Korean brands, and the new rules governing fuel economy all converge at the vanishing point, where it can be seen that to stand still is to die.
One way to improve fuel economy across the board is to reduce weight. That is being done in spades, whether it's aluminum, carbon fiber, high-strength steel, or even magnesium; body parts, frames, and housings have all gone on a diet.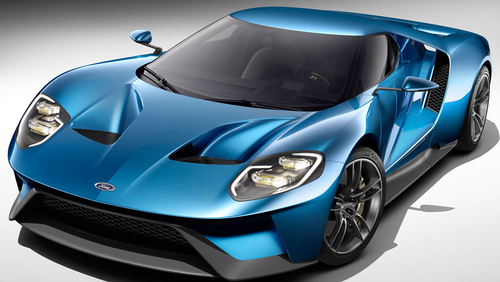 (Source: Ford)
Now, Ford has hit another area of the car: the windshield. Teaming up with Corning, the automaker will install a hybrid Gorilla Glass windshield on its 2017 GT supercar. Gorilla Glass has become a familiar name, used on smartphones today, though the Ford GT will have a three-layer laminate. It will reduce vehicle weight by 12 lb, about a 30% reduction from conventional glass, while helping to lower the car's center of gravity.
The multilayer windshield consists of a strengthened inner layer of automotive-grade Gorilla Glass, a noise-absorbing thermoplastic interlayer in the center, and an annealed glass outer layer. Altogether, the windshield is 3 mm to 4 mm thick, which is 1 mm to 2 mm thinner than standard auto glass. The same material will also be used on the car's decklid covering the rear engine.
[Learn more materials & fastening trends and developments at Pacific Design & Manufacturing, Feb. 9-11, at the Anaheim Convention Center.]
Paul Linden, Ford's body exteriors engineer, said, "We learned, somewhat counterintuitively, that the strengthened interior layer of the windshield is key to the success of the hybrid window."
"In addition to the new hybrid technology for the exterior glass of the Ford GT," Linden said, "we're using a unique glass combination for the bulkhead panel between passenger cell and engine bay. We're excited that we can use tailored glass applications to meet specific needs and provide maximum weight savings."
READ MORE MATERIALS ARTICLES ON DESIGN NEWS:
Ford is reported to have used advanced processes for contaminant reduction and chemical strengthening to help make the hybrid window. Specific projectile, rollover, and wind tunnel qualification tests showed that the windshield has strength equal to or greater than traditional laminates, and should provide reduced risk for damage.
It was Ford that approached Corning to pursue the effort, engaging the glassmaker to develop a formulation superior to auto glass.
"Ford recognized the significant value of this innovative lightweighting technology and committed significant resources to quickly get it qualified for production applications," said Wendell Weeks, Corning CEO. "We worked with Ford to develop a glass that successfully withstood thousands of hours of durability testing and is now being used in a Ford production vehicle."
RP Siegel, PE, has a master's degree in mechanical engineering and worked for 20 years in R&D at Xerox Corp. An inventor with 50 patents, and now a full-time writer, RP finds his primary interest at the intersection of technology and society. His work has appeared in multiple consumer and industry outlets, and he also co-authored the eco-thriller Vapor Trails.
Like reading Design News? Then have our content delivered to your inbox every day by registering with DesignNews.com and signing up for Design News Daily plus our other e-newsletters. Register here!