Volkswagen 'Speeds Up Time' With Accelerated Battery Testing
Volkswagen 'Speeds Up Time' With Accelerated Battery Testing
VW showcased the impressive capabilities of its new Battery Engineering Lab in Chattanooga.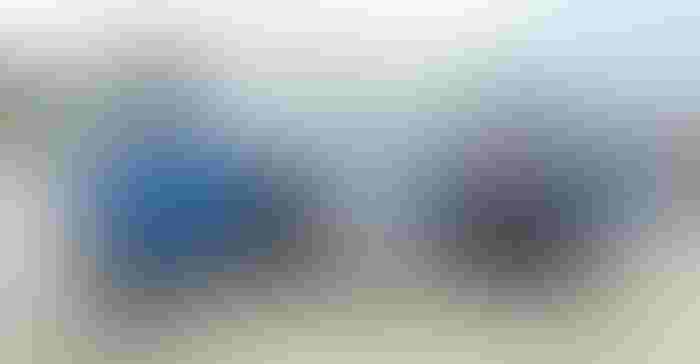 Volkswagen's engineering team and executives show off the company's new Battery Engineering Lab.Image courtesy of Volkswagen
Volkswagen of America has officially opened its $22 million, 32,000 square feet Battery Engineering Lab (BEL) in Chattanooga, where the company will test and optimize batteries for all electric vehicles in the American marketplace.
The lab complements the $800 million battery pack assembly facility that will turn bare lithium-ion cells from supplier SKI into complete packs for installation in the ID.4 crossover SUV whose assembly at VW's Chattanooga plant starts this year.
The grand opening of the battery lab at a time when U.S. consumer demand for the latest EVs is outstripping carmakers' ability to supply them due to supply constraints for components, especially batteries, marked something of a victory lap for Volkswagen Group of America president and CEO, Scott Keogh.
That's because when Keogh convinced the bosses at Volkswagen AG to commit to these enormous EV investments in the U.S. market in 2018, it was not yet clear that consumers would be ready for the resulting vehicles when the factory started cranking out the ID.4 in 2022. "We made the right bet at the right time," he said. "When we began making investments in electrification, it was because we saw a future for our industry and the North American region in which Volkswagen could take a leadership position. The Battery Engineering Lab helps make that vision a reality today, accelerating us decades into the future with advanced battery engineering to support our expanding EV push in North America."
This is because, as VW develops new batteries for future vehicles, the U.S. engineers will no longer depend on others to test their products in preparation for manufacturing. "No longer do we have to pick up a phone and call a supplier, or ship it off to Braunschweig [Germany] and wait three or four months for an answer," Keogh continued.
It turns out that Battery Engineering Lab was so expensive to build because it is a magical place. "In here, we actually speed up time," said Wolfgang Demmelbauer-Ebner, EVP and Chief Engineering Officer, Volkswagen of America. The test stations inside the lab can replicate the wear and tear of 9,000 miles of driving in just a week, he explained. That includes hot-weather driving and frigid cold, with charging and discharging cycles on the battery. "We call it the marathon for the battery, and we expect our batteries to cross the finish line here," he said. No dropping out of this marathon at mile 18 on Heartbreak Hill for the battery packs.
The continuous testing aims to optimize the batteries in terms of energy density, weight, and cost, and shape the characteristics of an electric vehicle.
"We are applying cutting-edge technologies to make sure that our EV batteries and ultimately our electric vehicles for American consumers are safe and strong," said Wolfgang Demmelbauer-Ebner, EVP and Chief Engineering Officer, Volkswagen of America. "With our new Battery Engineering Lab as the new center for battery know-how, we can react quickly to the fast-paced EV market by applying data to our local engineering and assembly."
The lab's staff is a new team of 30 engineers who focus on various climatic, mechanical, electrical, and corrosion tests of battery cells and battery packs. They can replicate every climatic environment in the world and scale between extreme settings well beyond what a typical customer would put a vehicle through. This is especially important in countries like the U.S. - and even more so for the North American continent - with its climate variations, from arctic cold to desert heat, Volkswagen points out.
Building the Battery Engineering Lab from the ground up allowed Volkswagen to install highly specialized equipment. One of them is the electrical Multi-Axial Shaker Table (eMAST). This unique machine allows for extreme vibration tests to simulate 15,000 km or about 9,321 miles in just one week.
Other primary tests include a drive-in climate chamber that can fit a larger SUV model, and the ability to set temperature ranges between -94° to 266° F (-70° to 130° Celsius) to mirror hundreds of possible climate conditions.
Another piece of time-accelerating equipment in the BEL is the thermal-shock chamber that rapidly exposes battery packs to changing hot and cold environments to stress their welds and fasteners, completing testing that previously took 20 days in only three days.
Volkswagen has invested more than $800 million to prepare its Chattanooga plant for the local assembly of the ID.4 SUV in 2022, including dedicated facilities for vehicle and battery pack assembly. Volkswagen employs more than 4,000 people at its factory and aims to hire 1,000 new production team members through 2022, to help meet customer demand for the Volkswagen Atlas, Atlas Cross Sport, and upcoming ID.4.
Sign up for the Design News Daily newsletter.
You May Also Like
---
Sep 12, 2023
The Battery Show brings together engineers, business leaders, top-industry companies, and innovative thinkers to discover ground-breaking products and create powerful solutions for the future.
LEARN MORE