Design engineers that want to ensure their high-precision linear motion systems are made to last can get a video lesson from Thomson Industries.
The company, which supplies mechanical motion solutions, has released a new educational video that provides step-by-step instructions on how to properly lubricate linear bearings and guides. Regular lubrication helps prevent premature wear of these parts, which can bring down machinery and automation systems that depend on them, said Jeremy Gong, global product manager at Thomson.
"Any system with moving parts will eventually wear out, but understanding the role of lubrication and characteristics of the lubrication itself can help linear guide users make the most of their automation investment," he said.
The video, which is available online, is the latest in an ongoing series of multimedia educational content released by Thomson. The goal of the tutorials is to help maximize performance, reduce lifecycle costs, and extend the life of linear motion.
READ MORE ARTICLES ON MOTION CONTROL:
In the video, Gong explains the lubrication process and begins with a method for cleaning linear bearings and guides. He then continues by showing best practices on how to maintain them, explaining how "any motion of the bearings will pick up the applied grease, and this will circulate throughout the housing."
Successful lubrication also depends on the quality of the lubricant, which can impact the reliability and reduce evaporation over time, according to Gong. In the video, he also describes a new lubrication product from Thomson called LinearLube that is designed to slow the evaporation process and extend bearing life.
In addition to its educational videos, Thomson also has authored a wide range of educational webinars and technical white papers that are available on its website to inform and guide design engineers, explain technology alternatives, and simplify the process of choosing linear motion components.
Elizabeth Montalbano is a freelance writer who has written about technology and culture for more than 15 years. She has lived and worked as a professional journalist in Phoenix, San Francisco, and New York City. In her free time she enjoys surfing, traveling, music, yoga, and cooking. She currently resides in a village on the southwest coast of Portugal.
Like reading Design News? Then have our content delivered to your inbox every day by registering with DesignNews.com and signing up for Design News Daily plus our other e-newsletters. Register here!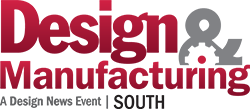 Design News will be in Orlando in November! Design & Manufacturing South will be in Orlando Nov. 18-19. Get up close with the latest design and manufacturing technologies, meet qualified suppliers for your applications, and expand your network. Learn from experts at educational conferences and specialty events. Register today for our premier industry showcase in Orlando.