Manufacturing companies stand to be one of the greatest beneficiaries of Internet Protocol technologies that are being bundled under the Internet of Things (IoT) banner. But according to a new industry group called the Industrial IP Advantage that is gearing up to educate engineers on networking technology and business impact, adopting a holistic view that brings together control engineering, IT, and plant management is ultimately a key to success.
Dan McGrath, global solutions manager for Panduit, told Design News:
Industrial IP offers a holistic deployment of Internet Protocol that will be a real game-changer for manufacturing. This digital communications fabric is the way to drive IoT value and connect not only equipment, people, and devices, but also to the supply chain and customers. It is the only technology that has the maturity and an emphasis on security that can make this possible.
Founding members of the Industrial IP Advantage, including Panduit, Cisco, and Rockwell Automation, are banding together as a group to promote deploying a secure, holistic, digital-communications fabric based on standard, unmodified use of the Internet Protocol (IP). The idea is that to take full advantage of this intelligence -- all devices within a plant need to talk with one another, as well as those at the enterprise level, using a unified networking infrastructure that is IP-centric.
The group's new website is in the process of launching a new Community forum designed to discuss trends, developments, implementation advice and opinions on the use of IP in industrial applications.
The slideshow below provides an overview of how the group sees Internet Protocol specifically making an impact on the efficiency and productivity of industrial manufacturing. While Industrial IP provides the unified connectivity fabric necessary to support a range of devices including sensors, personal devices, and robots, a key is to develop an understanding of why industrial IP is necessary for manufacturers and where the value of IP can be derived.
Click the image below to start the slideshow.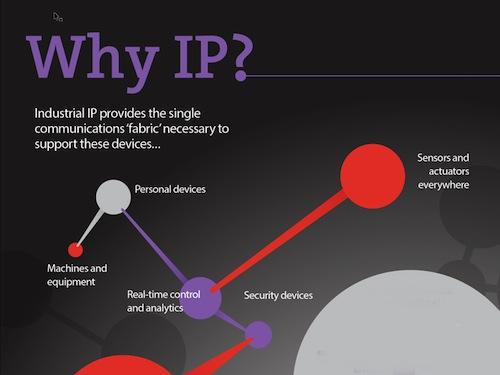 Use of an unmodified connectivity fabric based on IP technologies can create unified, secure networks that enable maximum coordination of the manufacturing process.
Related posts:
{doclink 256980}
{doclink 269526}
{doclink 264370}
{doclink 261493}
{doclink 264999}
{doclink 239654}