The manufacturing industry is among the first to adopt the Internet of Things (IoT), connecting automated machinery and making them smarter while pushing toward predictive maintenance schemes. To help facilitate these types of deployments in robotics, Cisco Systems has partnered with Fanuc America to connect industrial robots to a system to ensure they remain in proper working order and get help before breaking down.
The companies have come up with something Fanuc calls "Zero Downtime" (ZDT), which they already have tested in a pilot project with a major automotive manufacturer.
The system embeds Cisco networking tech into Fanuc's industrial robots so they can communicate any problem before a malfunction. Necessary parts can be ordered and maintenance performed before unexpected downtime, the companies said in a press release.
The pilot program for the system was aimed at significantly reducing production downtime at the auto manufacturer by ensuring automation and robotic equipment on the factory floor was in optimal shape and it achieved its goal, the companies said.
Now the solution, which includes Cisco's new Connected Machines offering, is being made available to commercial customers, providing an IoT solution to keep factory robots and other machines always up and working. Connected Machines allows machine builders and manufacturers to embed Cisco switching, security, and compute technologies directly in the machine itself or in a factory-floor aggregation device.
"By connecting our machines to our cloud-based ZDT Data Center, we can collect data from our robots and routinely analyze the overall health of each machine," said Joe Gazzarato, director of the Fanuc America Customer Resource Center. "If we detect a pending issue, the system notifies the customer and our service team, so we can send replacement parts and service personnel to the site to help the customer prevent an unexpected downtime event."
Gazzarato said the potential for this solution is to help enable the IoT transformation that many manufacturers have long anticipated but are just beginning to realize.
"We see ZDT as a tool that will help us by shifting our objective from 'working to improve response time' to 'predicting and preventing issues before they occur,'" he said.
How ZDT works is to proactively get ahead of maintenance issues and even planned outages. Typically, those overseeing manufacturing equipment only discover problems after production downtime has already occurred and when a physical connection to the robot allows for analysis and service, according to Fanuc.
READ MORE ARTICLES ON INDUSTRIAL ROBOTS:
If there is a potential problem or maintenance issue with a machine or robot, ZDT can use the embedded Cisco infrastructure to send the relevant data to the Cisco Cloud, where the cloud analytics engine captures data about the problem and predicts the need for maintenance, Fanuc said.
After this information is established, the system sends an alert from the cloud app to Fanuc service personnel and to the manufacturer about the need for a replacement part, for example. The part is then shipped to arrive at the factory in time for the next scheduled planned maintenance window so a manufacturer does not lose time nor money on fixing the robot outside of unscheduled maintenance cycles, according to Fanuc.
The companies have posted a video that explains more about the solution.
Elizabeth Montalbano is a freelance writer who has written about technology and culture for more than 15 years. She has lived and worked as a professional journalist in Phoenix, San Francisco, and New York City. In her free time she enjoys surfing, traveling, music, yoga, and cooking. She currently resides in a village on the southwest coast of Portugal.
Like reading Design News? Then have our content delivered to your inbox every day by registering with DesignNews.com and signing up for Design News Daily plus our other e-newsletters. Register here!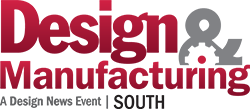 Design News will be in Orlando in November! Design & Manufacturing South will be in Orlando Nov. 18-19. Get up close with the latest design and manufacturing technologies, meet qualified suppliers for your applications, and expand your network. Learn from experts at educational conferences and specialty events. Register today for our premier industry showcase in Orlando.