Solar panels are an easy choice to harvest renewable energy in places with abundant sunshine, but places with significant precipitation have not been as quick to adopt this method of energy generation, as panels typically generate 10% to 25% less energy on cloudy days than on sunny days.
That could soon change thanks to the design by Chinese scientists of solar panels that can harvest energy not only from sunlight but also from raindrops. The research by three scientists in Qingdao, China -- outlined in a paper entitled, "A Solar Cell That is Triggered by Sun and Rain" in the journal Angewandte Chemie, which has been posted online by the The Register -- describes how a layer of graphene on top of the surface of the panel can turn compounds found in rainwater into energy.
"All-weather solar cells are promising in solving the energy crisis, researchers wrote in the paper's abstract. "A flexible solar cell is presented that is triggered by combining an electron-enriched graphene electrode with a dye-sensitized solar cell. The new solar cell can be excited by incident light on sunny days and raindrops on rainy days."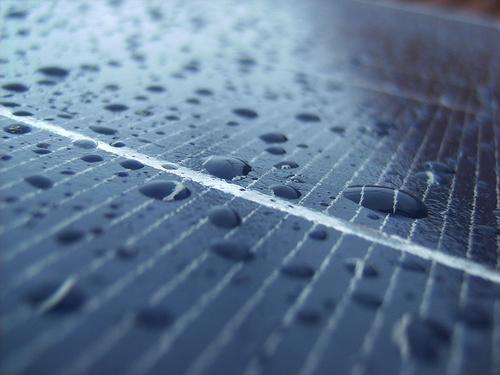 Chinese engineers have developed a solar panel that can harvest energy not only from the sun but also from raindrops. Researchers in Qingdao, China, achieved this by adding a layer of graphene over a dye-sensitized solar cell to react with compounds in rainwater to produce an electrical charge.
(Source: Skyway Electric and Solar)
Professor Qunwei Tang, Xiaopeng Wang, Doctor Benlin He of the Ocean University of China, and professor Peizhi Yang of Yunnan Normal University, led the research and co-authored the paper, which describes how the graphene interacts with ammonium, calcium, and sodium found in rainwater. These compounds become ions when they're combined in a solution.
The energy-generation occurs when rainwater sitting on top of the graphene creates what researchers call a "pseudocapacitor," or spots of unbalanced charge -- basically voltage -- that can capture electricity.
The panel developed by the researchers achieved a solar-to-electric conversion efficiency of 6.53% and a voltage of hundreds of microvolts in tests using simulated raindrops, they said.
READ MORE ARTICLES ON SOLAR ENERGY:
While these test results are nowhere near the current output of typical solar cells -- which have an efficiency of about 20% and can produce between 6V to 24V of power -- the idea to leverage rain as well as sunshine certainly could make solar panels a more accessible option for generating renewable energy.
Researchers, naturally, concurred: "All-weather solar cells are promising in solving the energy crisis," they wrote, adding, "the new concept can guide the design of advanced all-weather solar cells."
Elizabeth Montalbano is a freelance writer who has written about technology and culture for more than 15 years. She has lived and worked as a professional journalist in Phoenix, San Francisco, and New York City. In her free time she enjoys surfing, traveling, music, yoga, and cooking. She currently resides in a village on the southwest coast of Portugal.