Researchers for some time have been searching for ways to make the construction of solar panels less expensive and more environmentally friendly. A scientist in Sweden has upped the ante by creating material from wood -- arguably the most cost-effective and natural material conceived so far -- that can replace glass as the transparent layer of panels.
Lars Berglund, a professor at the Wallenberg Wood Science Center at KTH Royal Institute of Technology in Stockholm, has led a team that's developed optically transparent wood that can be mass produced. "It is cheaper, from renewable resources, and has better load-bearing properties [than other materials used]," he told Design News.
Optically transparent wood already has been developed for microscopic samples in the study of wood anatomy, he said. The difference in the latest KTH project is that it introduces a way to use the material on a large scale.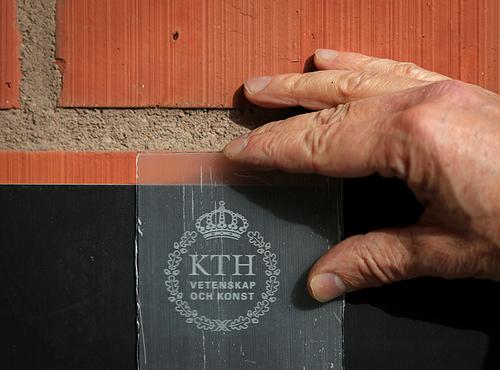 A researcher at Stockholm's KTH Royal Institute of Technology in Stockholm has developed a new transparent material made of wood for use in the construction of solar panels.
(Source: Peter Larsson, KTH Royal Institute of Technology)
To make wood transparent and viable for use in solar panels, researchers needed to chemically remove the lignin, a component of the wood's cell walls. The reason this is important is because the optical properties of this material are different from those of cellulose, another major component of the cell walls, Berglund said.
"For a transparent material, all components need the same optical properties," he said. "Lignin, the brown component in wood, has different optical properties than the other components."
After the lignin is removed, the wood becomes white, and researchers replace the lignin by filling the nanoscale pores left behind with a polymer -- that is, plexiglass, Berglund said. They then match the optical properties of the two materials.
READ MORE ARTICLES ON SOLAR ENERGY:
Researchers tried several woods before settling on pine for their work, with a goal of having a high fraction of "cellulosic wood," Berglund said.
The team continues to work on the project to improve the material's transparency and to make it more environmentally friendly by replacing the plexiglass with bio-based transparent polymer. They published an article detailing their work in the American Chemical Society journal, Biomacromolecules.
In addition to solar panels, the wood material developed by Berglund and his team can also be used for windows, as well as semitransparent facades in which the idea is to let light in but maintain privacy.
Elizabeth Montalbano is a freelance writer who has written about technology and culture for more than 15 years. She has lived and worked as a professional journalist in Phoenix, San Francisco, and New York City. In her free time she enjoys surfing, traveling, music, yoga, and cooking. She currently resides in a village on the southwest coast of Portugal.