We've told you about some recent R&D breakthroughs in recyclable carbon composites from one of the Fraunhofer Institutes and the University of Colorado Boulder. Now, a recyclable composite has been made using a resin you can actually buy, from Arkema Group.
At the recent JEC World 2016 composites show in Paris, the company unveiled its Arkema 3 Mini 6.50 monohull design prototype made from carbon fiber composites that are entirely recyclable. The composites are based on Arkema's new Elium resin. This recyclable thermoplastic is designed to be liquid at ambient temperatures so it can be processed like a thermoset, yet retain its thermoplastic characteristics, which are highly desirable for recyclability.
The 6.5-meter-long prototype monohull has been financed entirely by the company, which built the sailboat in cooperation with Lalou Multi, headed by skipper Lalou Roucayrol. "This is the first time in the world that a component of this dimension has been produced using a recyclable acrylic resin," says Pierre Gerard, composite expert, Arkema-GRL (Lacq Research Group), one of the company's 14 R&D centers, in this company video:

Roucayrol and Arkema have worked together on two previous racing sailboat projects, the Multi50 trimaran and the 2 Mini 6.50 monohull. Both incorporated several technologies that also appear on the new recyclable monohull prototype. When the 3 Mini 6.50 has its first race this July, Arkema says it will be the first boat built with this type of resin to be sailing the oceans.
The new boat's hull and bridge are fabricated entirely of recyclable thermoplastic carbon fiber composite based on Elium. The resin can be molded via infusion at room temperatures to make large, stiff structural parts with excellent toughness. Its low viscosity and long gel time ensure excellent impregnation of carbon or glass fibers to achieve optimum mechanical properties. Mechanical performance of parts is comparable to that of epoxy parts. The styrene-free resin is compatible with conventional thermoset resin tooling.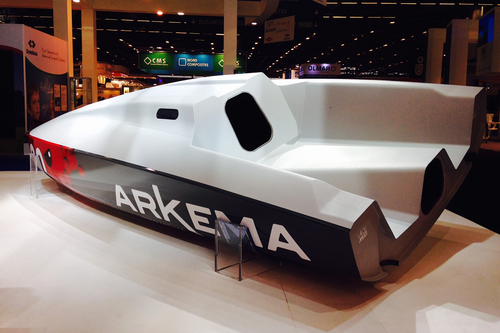 In July this year, the first boat built with a completely recyclable carbon fiber composite based on thermoplastic resin will sail the oceans in its maiden race. Arkema unveiled the 3 Mini 6.50 monohull design prototype made with composites based on its recyclable Elium resin at the recent JEC World 2016 composites show.
(Source: Arkema)
Cockpit windows and hood are made of the company's Altuglas ShieldUp, a nanostructured acrylic glass sheet with transparency equivalent to glass, as well as outstanding resistance to impact, chemicals, and the elements, such as salt water, wind, and UV. Bulkheads attached with SAF methacrylate structural adhesives from AEC Polymers, owned by Arkema, optimize the monohull's flexibility, sturdiness, and weight.
In the video, Gerard said, "To manufacture the hull, the deck, we were allowed just one attempt and no more, at which we absolutely could not fail." There had to be synergy between the resin, determined by materials input from Arkema-GRL, and the process, determined by input from the skipper, Lalou Roucayrol and his team at Lalou Multi. Tests included static and dynamic in terms of fatigue and creep, for example, Gerard said. Since Arkema's historic automotive customers all use thermoplastic resins, they're interested in the possibilities of this composite, as are its wind power customers.
READ MORE ARTICLES ON COMPOSITES:
Ann R. Thryft is senior technical editor, materials & assembly, for Design News. She's been writing about manufacturing- and electronics-related technologies for 28 years, covering manufacturing materials & processes, alternative energy, machine vision, and all kinds of communications.