The chief product strategist for SolidWorks says CAD users are no longer satisfied with mere CAD and want a software platform that allows them to innovate. That demand is now driving Dassault Systèmes' development roadmap for the longtime software package, he adds.
Kishore Boyalakuntla, senior director for product portfolio management and user experience leader for SolidWorks, told Design News in an interview that the time when engineers simply created part and assembly geometry is long gone. "In this hyper-competitive world, the only way a company can stay ahead is to innovate continuously," he said. "It's not enough to have a CAD system anymore. You need rendering, simulation, ways to manage data. You need inspection, mechanical and electrical engineering.
"Engineers need to be talking to each other, talking to manufacturing, talking to quality," Boyalakuntla added. "And you cannot have these tools working in silos. They have to be integrated. Companies are telling us, 'We don't want CAD. We need an innovation platform.' We're going to be taking this to the next level over the next few years."
From a high level, SolidWorks 2016 has been developed so that the software can "get out of the way" and let users focus on analyzing and solving complex problems and catch errors earlier, streamline communication and collaboration among parallel working groups, and speed up design through manufacturing.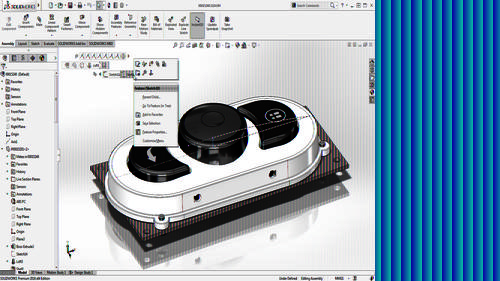 Introduction of a "breadcrumbs" navigation paradigm is intended to decrease mouse travel.
(Source: SolidWorks)
Boyalakuntla sees Dassault's development strategy for SolidWorks, in part, as a response to the migration from two-dimensional to three-dimensional design. "In manufacturing, you've had 3D design, but in the middle you've had two-dimensional flat drawings," he said, which has limited engineers' capability to pass useful data with their drawings downstream to manufacturing.
This creates a challenge, said Boyalakuntla, "especially when manufacturing is distributed, not just in the US but worldwide, in places like China, Vietnam, Singapore, and so on. The question manufacturers have been asking is, 'Can we move towards manufacturing without 2D drawings?'"
Boyalakuntla believes that Dassault has been responding to that trend through its model-based definition technology to embed engineering data in 3D models. One very positive result, he said, is a drastic reduction in the deviation between the design and the eventual manufactured part.
READ MORE CAD ARTICLES ON DESIGN NEWS:
Boyalakuntla said that some 95% of the more-than-600 enhancements in the latest edition of SolidWorks are based on feedback received from the software suite's user community.
The 2016 release attempts to increase productivity through enhancements to the user interface and workflows. Especially important to the new UI is the introduction of a "breadcrumbs" navigation paradigm that is intended to decrease mouse travel. The user can now access any level of a model without having to view the Feature Tree. A quick keyboard shortcut can bring the breadcrumb right to the position of the cursor. The same applies to the Confirmation toolbar.
The new look and feel and the interaction methods are introduced in all SolidWorks applications.
Other new capabilities center on reducing time and effort required to create geometries, as well as on automating repetitive tasks. The user can now employ the Sweep command to automatically create circular sweeps. Also, the user can use the Curvature Continuous Edge Fillets function to automatically create aesthetic, perfectly smooth blends between parts. Another previously time-consuming process, modeling threads, is now automated via a new Thread Wizard.
The new edition continues to push the software's collaboration, cost, and design-for-manufacturability features, as well as the production of documentation, and even the capability to create high-resolution, photorealistic renderings for marketing purposes.
Boyalakuntla told Design News that SolidWorks' improvements in collaboration are addressing what Dassault identified among engineers: "30% of engineering time is spent in helping other departments -- the quality people asking questions or the marketing people requesting renderings." Building in capabilities that do a better job of producing drawings, data, and documents that can be used by other departments address engineers' productivity challenges.
Al Bredenberg is a writer, analyst, consultant, and communicator. He writes about technology, design, innovation, management, and sustainable business, and specializes in investigating and explaining complex topics. He holds a master's degree in organization and management from Antioch University New England. He has served as an editor for print and online content and currently serves as senior analyst at the Institute for Innovation in Large Organizations.
Like reading Design News? Then have our content delivered to your inbox every day by registering with DesignNews.com and signing up for Design News Daily plus our other e-newsletters. Register here!

Design engineers and professionals, the West Coast's most important design, innovation, and manufacturing event, Pacific Design & Manufacturing, is taking place in Anaheim, Feb. 9-11, 2016. A Design News event, Pacific Design & Manufacturing is your chance to meet qualified suppliers, get hands-on access to the latest technologies, be informed from a world-class conference program, and expand your network. (You might even meet a Design News editor.) Learn more about Pacific Design & Manufacturing here.