Advanced Materials Tapped to 3D-Print Wearable Device
Advanced Materials Tapped to 3D-Print Wearable Device
Researchers used high-resolution extrusion printing with MXene and conductive polymer to fabricate a dual-purpose wearable sensor.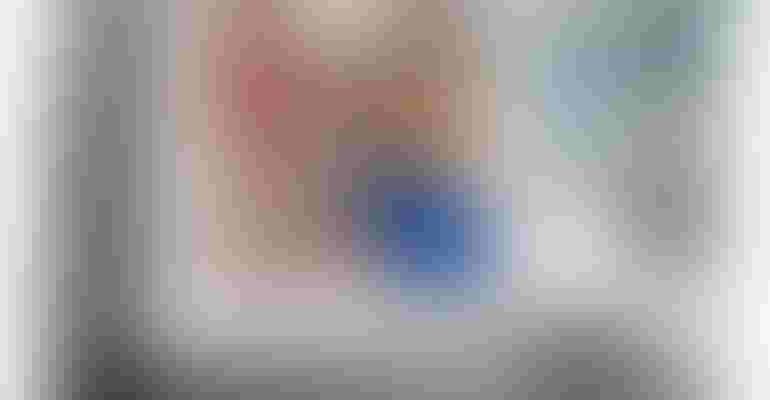 University of British Columbia Okanagan (UBCO) doctoral student Ahmadreza Ghaffarkhah uses a 3D printer to create small and highly-accurate motion sensors that can be integrated into clothing and equipment.
Image courtesy of UBCO School of Engineering
Researchers have tapped advanced materials with a combination of conductivity and flexibility to develop highly sensitive wearable devices that provide a dual purpose.
A team from the University of British Columbia Okanagan (UBCO) used high-resolution extrusion printing to develop small and lightweight devices that act as both electromagnetic interference (EMI) shields and a body motion sensor. EMIs hields can have applications in the healthcare, aerospace, and automotive industries, researchers said.
The devices—which can be integrated into clothing and equipment—were made with a conductive ink comprised of MXene, a two-dimensional inorganic nanomaterial as well as a conductive polymer.
MXene is a smart carbon material that like its cousin graphene has a useful combination of properties—it's both highly conductive and flexible, said Mohammad Arjmand, assistant professor and Canada Research Chair in the Advanced Materials and Polymer Engineering at UBCO's School of Engineering.
When used in a conductive ink, it's ideal for fabricating novel wearable devices, which are increasingly becoming part of every-day life, he said. "Extrusion printing of these conductive materials will allow for macro-scale patterning, meaning we can produce different shapes or geometries, and the product will have outstanding architecture flexibility," Arjmand said in a press statement.
Simplifying Wearable Fabrication
Indeed, historically it has not been easy to fabricate wearables through traditional manufacturing means that meet the flexible, user-friendly demands of such devices while still allowing them to perform well. Current manufacturing technologies of functional materials are mostly limited to laminated and unsophisticated structures that don't enable the integration of monitoring technologies, said UBC doctoral student Ahmadreza Ghaffarkhah, who works on Arjmand's team.
Extrusion printing, on the other hand, offers customization, reduction in materials waste, and rapid production, while opening up numerous opportunities for wearable and smart electronics, Arjmand said. "As extrusion printing techniques improve, it is opening the door to many unique innovations," he said in a press statement.
Tweaking the Process
The UBCO team tweaked the printing process they used so it could meet both the needs for high printing resolution and precise structures that the dual-purpose device required, Ghaffarkhah said. "These printed structures can be seeded with micro-cracks to develop highly sensitive sensors," she explained. "Tiny cracks in their structures are used to track small vibrations in their surroundings." The vibrations can be used to monitor numerous human activities, including breathing, facial movements, and talking as well as the contraction and relaxation of a muscle, she said.
Researchers published a paper on their work in the journal Carbon. They collaborated with scientists at Drexel University and the University of Toronto on the research. The team will continue to investigate additional applications for the extrusion printing inks and process they developed that go beyond wearable electronics, researchers said.
Sign up for the Design News Daily newsletter.
You May Also Like
---
Sep 12, 2023
The Battery Show brings together engineers, business leaders, top-industry companies, and innovative thinkers to discover ground-breaking products and create powerful solutions for the future.
LEARN MORE