How Will COVID-19 Impact New Tech?
How Will COVID-19 Impact New Tech?
Will 5G be delayed? Is more automation coming? Will we all be working in VR soon? Blockchain? Here's a look at the technologies being helped (and hurt) by the COVID-19 pandemic.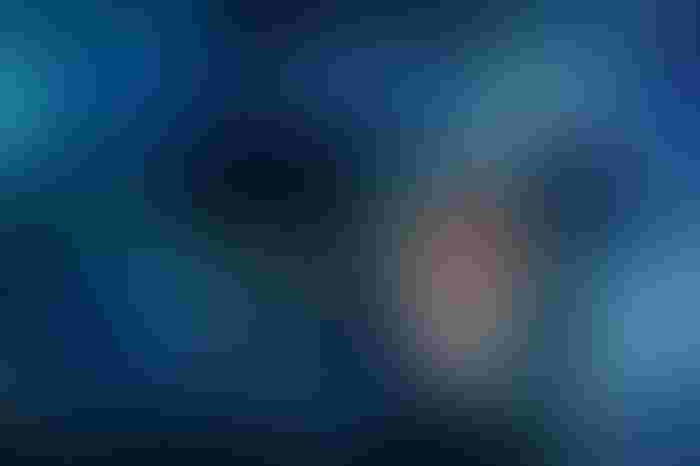 (Image source: Adobe Stock)
There's no question at this point that the COVID-19 pandemic is going to have a major economic impact on the world. With that comes the question of how new and emerging technologies will be impacted as well. The temptation is to think that everyone will suffer due to supply chain disruptions, work stoppages, and other issues. But that's not the case across the board.
For some technologies, this pandemic will be more of a growth opportunity than a setback. But which ones?
3D Printing – The Hero's Journey
An open-source, 3D-printable medical face shield from Prusa3D (Image source: Prusa3D)
With shortages of masks, face shields, and other vital medical equipment, 3D printing is emerging as the hero technology of the COVID-19 crisis. Numerous additive manufacturing companies as well as DIY/maker communities are shifting their efforts towards printing and providing designs for essential medical equipment. If nothing else, COVID-19 has put 3D printing in the spotlight in a way in hasn't been before.
Aside from the good PR however, 3D printing is also showing a potential for new levels of adoption following the outbreak. Major manufacturers, including automakers, have already been implementing 3D printing into their parts production workflows for years now. Supply chain disruptions created by the coronavirus could see these companies leaning even more heavily into additive manufacturing and could lead new adopters to 3D printing as well. If you're a manufacturer experiencing a parts shortage, 3D printing could be the answer to your prayers in the coming months. Some manufacturers may also find that 3D printing a part yields additional benefits as well such as lightweighting.
In a statement, Venkata Naveen, Disruptive Tech Analyst at the consulting firm GlobalData, said even in the face of COVID-19, 3D printing shouldn't see much of a slowdown in 2020. "3D printing has leaped from the proof-of-concept stage to a viable manufacturing alternative, demonstrating its potential in real-world environments, notably in industries such as aerospace and defense, construction, consumer and automotive," Naveen said. "2020 will be game-changing for 3D printing technology amid the COVID-19 pandemic, fueling its adoption in multiple industries. The current scenario of fragile supply chains will fast track the development of a digital manufacturing ecosystem, driven by 3D printing technology."
5G – A Question of Infrastructure vs. Devices
Despite outlandish conspiracy theories that 5G is somehow the cause of the novel coronavirus, rollouts of 5G shouldn't see a significant slowdown. Speaking at the recent ABI Tech Summit, Dimitris Mavrakis, a research director at ABI Research said the challenges facing 5G in the crisis have more to do with personnel than supply chain. "Engineers and technicians cannot visit sites because of restrictions," he said. These sorts of restrictions could show delays in installations of small cells and other new equipment needed for 5G.
COVID-19 however has created an increase in WiFi and cellular traffic for a number of reasons, which Mavrakis believes will only fuel the fire of demand for 5G going forward. Still, he expects 5G rollouts to be back on track after June 2020 and should pick up in 2021.
There could be delays on the consumer device end however. "There was an assumption the smartphone market would grow because of consumer upgrades and replacements, and the rapid migration to 5G driven by consumer eagerness," ABI research director David McQueen said.
Rollouts of 5G smartphones have already been feeling pressure from the ongoing trade war between the US and China, which has seen products from Huawei banned in the US. The pandemic has also piled on additional supply chain issues on top of this that could result in delays from the first 5G smartphones from major brands like Apple and Samsung.
AR/VR – Reality Bites
The Oculus Quest VR headset (Image source: Oculus / Facebook)
Augmented and virtual reality have pushed remote collaboration as a major benefit for enterprise. Startups in the space unveiling new enterprise technologies, the protocols around social distancing, and more companies adopting work from home practices offers AR and VR a unique opportunity to prove their worth – both during the crisis and after a return to normalcy.
According to ABI Research, there's been an overall slowdown in AR/VR hardware manufacturing across the board from major vendors like Oculus and HTC. The (very welcome) demise of smartphone-based VR has already led brands like Google and Samsung to phase out certain products, particularly on the consumer side.
Software companies offering solutions around remote collaboration, virtual training, remote assistance, and hands-free applications however still have an opportunity to put their products forward – but it may be difficult for companies looking to adopt VR to acquire all of the necessary hardware in the coming months.
AR/VR hardware companies are seeing manufacturing and supply chain delays from the OEMs all the way down to the component level, according to Eric Abbruzzese, a research director at ABI focused on AR/VR. He said these slowdowns could have a fatal impact on smaller companies. "A months-long supply chain disruption really is ending for a lot of companies that are looking to sell out and ship devices as quickly as possible," he said. As a result, some small companies with valuable and potentially impactful hardware for the AR/VR space could see themselves fold before their products really take off.
Autonomous Vehicles - Not All Roads Lead the Way
Auto sales have slowed significantly and automakers like Ford, GM, and Tesla are pivoting some of their production capacity toward creating much-need medical supplies during the COVID-19 crisis. But how are autonomous vehicles (AVs) and their related technologies fairing?
The supply chain slowdowns won't be doing AVs any favors in the near-term, particularly for companies that don't have a product that can be commercialized yet. The entire AV sector has drastically rolled back on expectations of having fully autonomous vehicles available on public roads any time soon. Setbacks related to COVID-19 will only exacerbate this.
Suppliers should fair better than the car companies themselves however since many of the sensor technologies in particular associated with AVs can be leveraged for other uses. RoboSense, a startup that develops Smart LiDAR sensors, is working with several Chinese companies including Neolix, Alibaba's Cainiao Robotics, Unity Drive Innovation, and Zhen Robotics to apply its LiDAR technology to unmanned vehicles and robots that deliver goods, and disinfect and clean streets to help prevent further spread of the coronavirus.
One particular branch of AVs that could see a growing benefit from these times is the autonomous trucking space. Last month saw the shutdown of Starsky Robotics, one of the innovators in the self-driving truck space. But COVID-19 is putting a spotlight on long-standing issues in the trucking industry that autonomous technology is seeking to alleviate.
The trucking industry is suffering from multiple pain points, one of which is the shortage of long-haul drivers. The American Trucking Association estimates that the US trucking industry alone is currently suffering a shortage of 60,ooo drivers. By 2028 this number is expected to rise to 160,000 drivers. And with existing drivers being unable to work due to illness or restrictions, companies that remain in the space like TuSimple have an opportunity to showcase the benefits of their technology.
TuSimple has committed to maintaining its transport operations in Arizona, which includes continued work with UPS and the USPS. TuSimple has also been using its trucks to deliver good to the Arizona Foodbank in a pro bono effort.
Blockchain – A New Kind of Investment
The prospect of a COVID-19-related surge in the market has cryptocurrency investors salivating over Bitcoin right now. But blockchain, the technology behind all cryptocurrencies, has an opportunity to demonstrate its worth in the wake of COVID-19 as well.
One particular opportunity comes in blockchain's ability to help automate supply chains. As companies look to leverage more automation to help alleviate supply chain disruptions, blockchain's ability to create secure, decentralized, smart contracts offers company's a way to automate some of their processes without having to worry about taking on new security risks.
"Industries that are working on blockchain in supply chain will most likely stall their efforts," Indira Mysore, Director of Healthcare Community Development at the Austin Blockchain Collective, told Design News. "With COIVID-19, China has become the single point of global supply chain failure. No country or company planned for this single point of failure. COVID-19 will force companies to re-imagine their global supply chain, spread their risk and not make any country their single point of failure."
Mysore is a member of the healthcare working group of the Government Blockchain Association (GBA), a non-profit working to connect public and private sector developers to create blockchain solutions for government applications. She believes that the current crisis is pointing to a need to reinvent the supply chain model. And blockchain could play a key role in that. " Blockchain might fit the bill here, as the new [supply chain] model will require close collaboration and data sharing among ecosystem partners to respond swiftly, when such a disaster strikes again."
Blockchain's major benefit has always been its enhanced levels of security compared to more traditional methods. As cybersecurity attacks are spiking in the wake of COVID-19, more companies and institutions may be looking at blockchain as a means to shore up and improve their own security against future attacks. There likely won't be a huge immediate investment, but longer-term more companies may be looking at blockchain as a means to be prepared if another crisis arises in the future.
"The rampant spread of COVID-19 has accelerated humanity's urgent efforts to contain it; within those efforts, the inefficiencies of our data handling processes and systems across many industries have been drawn in sharp relief," Marquis Allen, fellow GBA member and a blockchain solutions developer and entrepreneur told Design News. "The promise of efficiency, transparency, security, and immutability in data transactions using blockchain have interested many industry leaders, and I think many new efforts will be undertaken to ultimately adopt the innovation."
As part of the healthcare working group of the GBA, Allen sees the healthcare sector in particular as being able to benefit from blockchain.
"The healthcare sector could improve efficiency and attain critical transparency in its materials management practices – a process that has been sorely tested in the wake of supply shortages of medical supplies and personal protective equipment used to combat the coronavirus," Allen said. "Supply chain management in agriculture and manufacturing have seen great success in implementing blockchain solutions to track and trace the transport and delivery of goods securely, and in a nigh-tamperproof way; this provides a solid proof of concept for healthcare to follow suit."
Cybersecurity – Dealing with Another Kind of Virus
Remote working, working from home, and an increased dependence on internet connectivity are creating a perfect storm to highlight a growing need for improved cybersecurity solutions – both for our systems and to protect the personnel that could fall victim to phishing scams and other social engineering attacks. But the increased awareness of these attacks could be a boon to cybersecurity solutions providers.
Zoom, which has become a go-to platform for remote workers, and those who just want to say connected to friends and family, has seen a surge in cyberattacks (called "Zoombombing") where hackers hijack Zoom feeds and use them to post abusive and harassing content.
In March, an unsuccessful cyberattack was made against the US Health and Human Services Department. The National Security Council believes the attack was the work of a foreign actor looking to spread disinformation about the coronavirus and undermine the US' ability to respond.
The FBI has released a public advisory noting it has received more than 1,200 complaints related to COVID-19 scams. "In recent weeks, cyber actors have engaged in phishing campaigns against first responders…deployed ransomware at medical facilities, and created fake COVID-19 websites that quietly download malware to victim devices," the FBI has said. "Based on recent trends, the FBI assesses these same groups will target businesses and individuals working from home via telework software vulnerabilities, education technology platforms, and new Business Email Compromise schemes."
Writing for fellow Informa publication Dark Reading Robert Ackerman Jr., founder of Allegis Capital, an early-stage venture capital firm that invests heavily in cybersecurity, said there will no doubt continue to be in increase in cyber threats during the pandemic, but it can be a learning and growth opportunity for the cybersecurity industry.
"These opportunities are lessons from which we can adapt new strategies and supporting technologies to evolve our digital economy and technology infrastructure to be better prepared the next time we face challenges," Ackerman wrote. "In the case of the coronavirus threat, the vulnerabilities of the global supply chain and digital economy are now clear. We are being challenged to rethink the infrastructure by which we manage in this environment. We must be more resilient going forward."
Facial Recognition – The Controversial Use Case
AI touches nearly every emerging technology today working to combat COVID-19. But if there's one subset of artificial intelligence that deserves special attention right now it's facial recognition.
One of the most controversial uses of AI, facial recognition is touted for its security, surveillance, and biometric verification applications. But those same benefits also make it one of the most hotly-debated technologies today. While legislation around facial recognition is ongoing in countries like the US, other countries like China have fully embraced the technology.
Now facial recognition is being pushed as a tool in the fight against COVID-19. In China, companies like Hanwang Technology  are rolling out solutions that can recognize faces – even if the person is wearing a surgical mask. By employing temperature sensors these systems can also flag citizens with an elevated body temperature in a crowd (fever is one symptom of COVID-19). This means citizens who are potential carriers of the coronavirus can be flagged and identified even in public spaces.
If hearing that is giving you serious 1984 vibes, you're not alone. Critics are accusing China of using COVID-19 as a convenient means of advancing a larger surveillance state agenda.
Other facial recognition companies are applying their technology directly to the medical sector. Chinese tech giant Alibaba has said it has developed a system that can detect coronavirus in a patient in 20 seconds with 96% accuracy using a CT scan of a patient's chest. Yitu, a Chinese facial recognition startup that has seen its technology deployed in offices and at ATMs in China, has developed a similar CT scan technology that it says is 97.3% accurate and can diagnose a coronavirus infection within three seconds.
Robotics – Time to Prove Their Worth
The robotics space could be seeing an overall net benefit from the COVID-19 crisis. Negative press that companies like Amazon are receiving for failure to protect warehouse workers could see them pushing for more automation to reduce their overall human workforce. And with workers unable (or unwilling) to work in close-quarters warehouse and factory conditions, companies could start leaning on robotics to pick up the slack – a change that won't likely reverse once humans are able to get back into the workplace.
A micro-fulfillment center from Takeoff Technologies (Image source: Takeoff Technologies)
"The robotics industry as we've understood it for the last 20 years is going to be negatively affected, at least on the outset," Rian Whitton, a senior analyst at ABI research said. "In the long-term robotics is expected to see an acceleration due to COVID-19 as companies look to implement more automation to get to normalcy. New supply chains will emphasize local manufacturing, reshoring, and more lights-out productivity.
Social distancing rules and restrictions are already giving automation technology companies new opportunities in the consumer space as well. Takeoff Technologies, for example, a producer of robot-run "micro-fulfillment" centers for grocery stores is expecting adoption of automation in the retail sector to acclerate as a result of COVID-19.
Robotics for healthcare could also see a net gain from COVID-19. Technologies such as remote-operated surgical robots and telepresence robots are showing obvious benefits for medical workers right now. Knightscope, a developer of automated security robots, is leveraging its machines to offer public service announcements and safety tips around the coronavirus for people in public spaces.
That's not to say that all robotics companies are looking at blue skies ahead. "A robotics company invested in by Amazon for example could be in a good place," Whitton said. "But a self-driving car developer with no ability to commercialize its product may be in for a tough year."
RELATED ARTICLES:
Chris Wiltz is a Senior Editor at  Design News covering emerging technologies including AI, VR/AR, blockchain, and robotics.
Sign up for the Design News Daily newsletter.
You May Also Like
---
DesignCon 2024

Jan 30 - Feb 1, 2024
Jan 30 - Feb 1, 2024
DesignCon is the premier high-speed communications and system design conference and exposition, offering industry-critical engineering education in the heart of electronics innovation — Silicon Valley.
Learn More