Flow Battery for Renewable Storage Is Simple and Cheap
Flow Battery for Renewable Storage Is Simple and Cheap
Researchers at MIT have developed one of the first liquid-flow batteries that reduces the cost and simplicity of the typical design.
Liquid-flow batteries have been used in numerous ways since about the 1970s, most recently as storage for solar energy. Now researchers at MIT have proved that liquid-flow batteries could rival the cost and efficiency of more common rechargeable designs such as lithium-ion batteries for a similar use with a system that turns battery design upside down, literally.
A research team led by MIT Kyocera Professor of Ceramics, Yet-Ming Chiang, developed a battery that uses the same chemical compounds as typical lithium-ion batteries, but replaces the complex systems of tanks, valves, and pumps normally needed for liquid-flow batteries with a simple, gravity-fed system.
The result is a new concept that functions like an old hourglass or egg timer, with particles -- in this case carried as a slurry -- flowing through a narrow opening from one tank to another, according to researchers. The flow then can be reversed by turning the device over. The team published a paper about its work in the journal, Energy and Environmental Science.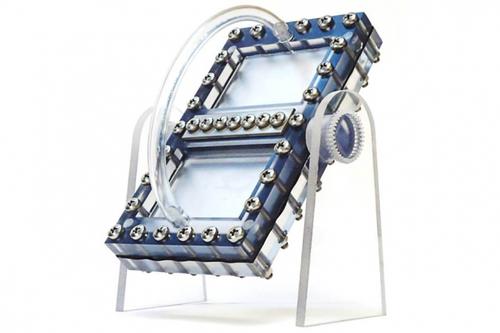 Researchers at MIT have developed one of the first liquid-flow batteries that is simple in design and can rival typical rechargeable batteries in use today.
(Source: MIT) Researchers were inspired to develop the system to help find a more efficient, less expensive alternative to typical lithium-ion cells, which tend to have an excess of non-energy-storing components as well as complex and expensive manufacturing processes, Chiang told Design News."We were seeking battery designs that could be manufactured simply and with a minimum of unit operations," he said. The team also was motivated to break the limits of the two primary types of battery design -- stationary batteries with no moving parts, and flow batteries with actively pumped fluids, he added."The first has the limitations I mentioned, and the second has suffered from having too many mechanical points of failure, as well as mechanical and electrical efficiency losses, Chiang said. "We recognized that there was a huge unexplored design space between these two extremes. We thought that there was a lot of potential for passively driven designs that are simpler, lower cost, and more efficient. What the team came up with is the GIFcell, which he said is the first example of such a design. The battery is not meant to be used as a prototype for actual applications, but is more like a concept car to show researchers where battery designs can go if more effort is put into this area."With this work, we hope to show the battery and energy field that there is an exciting new design space here that deserves to be explored, and to stimulate others to think in this direction," Chiang said.READ MORE ARTICLES ON BATTERY RESEARCH:This Mini, Solid-State Battery Powers IoT Sensors, DevicesResearcher Accidentally Develops Way to Make Batteries Last 400 Times Longer
The team's design is a low-cost, high-energy-density chemistry that includes a fixed lithium electrode and a flowing suspension containing dissolved sulfur and a network of carbon nanoparticles in an organic solvent electrolyte, Chiang said. The rate of flow can be controlled by adjusting the angle of the device with "a very steady but low flow rate" being the optimal result. While lithium was used in the concept design, the team designed the battery to work with other chemical compositions as well, he added.
The new design should allow for simpler and more compact battery systems for gradual expansion of grid-connected storage systems to meet the growing demand for alternative energies like solar and wind, Chiang said. Researchers aim to continue exploring its design as well as a number of other passively driven battery-design concepts for this use, he added.
Elizabeth Montalbano is a freelance writer who has written about technology and culture for more than 15 years. She has lived and worked as a professional journalist in Phoenix, San Francisco, and New York City. In her free time she enjoys surfing, traveling, music, yoga, and cooking. She currently resides in a village on the southwest coast of Portugal.
Sign up for the Design News Daily newsletter.
You May Also Like
---
DesignCon 2024

Jan 30 - Feb 1, 2024
Jan 30 - Feb 1, 2024
DesignCon is the premier high-speed communications and system design conference and exposition, offering industry-critical engineering education in the heart of electronics innovation — Silicon Valley.
Learn More