Brushless DC Motor Technology Is Seen as Advantage for Intelligent Motion Control
Brushless DC Motor Technology Is Seen as Advantage for Intelligent Motion Control
If brushless DC motor technology is going to serve as the foundation for future motor advancement, the market needs to dispel the accepted idea that BLDC motor control is too expensive and complicated.
If brushless DC motor technology is going to serve as the foundation for future motor advancement, the market needs to dispel the accepted idea that BLDC motor control is too expensive and complicated, said industrial electronics developer and manufacturer Micronas Semiconductor.
No one doubts the advantages of BLDC over brush DC or stepper motors, but users need to be persuaded that the advantages will outweigh the costs and control solutions are readily available, according to Rüdiger Laschewski, automotive marketing manager for the high-voltage controller product line for Micronas.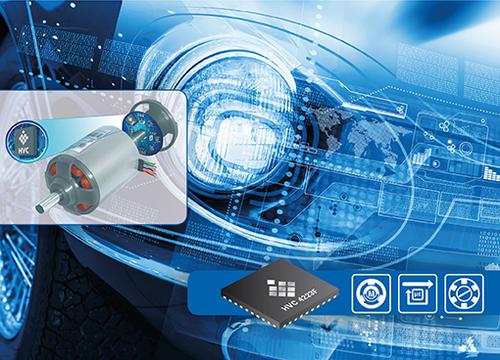 "First, due to the smaller motor geometry and lower weight, they address the market requirement for lightweight design and increased performance," he told Design News. "Second, BLDC motors are more efficient, as there are no core losses in the rotor due to the use of a permanent magnet, which also results in reduced maintenance and a longer lifetime for the motor. Third, through the use of proper commutation algorithms, the thermal performance is improved, a higher motor speed range is achieved, improved dynamic response time can be realized, better electromagnetic isolation is possible, and better torque behavior is delivered.
"While there are many BLDC motor manufacturers, there are fewer with integrated electronic control solutions available in the market," Laschewski added. "Finding a company capable of manufacturing BLDC motors with highly integrated electronic controls while delivering at a low overall cost is still difficult."
The market for BLDC motor technology is expected to grow. For starters, the declining cost of electronics will make them more affordable. Today, the market requirements for lower weight, smaller size, and higher power density are raising the profile of BLDC motors, particularly in distributed LIN bus networks. The trend toward BLDC use is expected to improve the diversity and functionality of motors and make it easier to achieve networking between intelligent drives.
READ MORE BRUSHLESS DC MOTOR ARTICLES ON DESIGN NEWS:
The design-in time can be reduced when complete platforms are developed using single-chip solution, and tailoring to different motor types and properties can be achieved by means of adapting the software. Today's brush-type DC motor solutions can be replaced 1:1 by a BLDC motor that on the outside looks conventional but inside provides all that is needed to realize intelligent motion control.
The industry needs to convey that the conversion to BLDC is admittedly complex, particularly in the programming, but not when the right controller unit is selected. Integrated electronic control enables better self-diagnostic functions and automatic adjustment of system parameters, Laschewski said. Finally, single-chip design solutions can reduce circuit complexity.
Tailoring to different motor types and properties can be achieved through changing commutation schemes by adjusting motor parameters in the software. The high level of reusability of hardware and software allows for quick responses to changes in customer requirements. In contrast, standard microcontrollers or state machines are often exclusively dedicated to the motor type or application.
Micronas' single-chip HVC 4223F embedded high-voltage motor controller, Laschewski said, allows customers to efficiently equip a complete platform of actuators, independent of the motor type. From there, users can build a distributed network of smart actuators capable of communicating individually or between each other within the system.
Tracey Schelmetic graduated from Fairfield University in Fairfield, Conn. and began her long career as a technology and science writer and editor at Appleton & Lange, the now-defunct medical publishing arm of Simon & Schuster. Later, as the editorial director of telecom trade journal Customer Interaction Solutions (today Customer magazine) she became a well-recognized voice in the contact center industry. Today, she is a freelance writer specializing in manufacturing and technology, telecommunications, and enterprise software.
Like reading Design News? Then have our content delivered to your inbox every day by registering with DesignNews.com and signing up for Design News Daily plus our other e-newsletters. Register here!


Design engineers and professionals, the West Coast's most important design, innovation, and manufacturing event, Pacific Design & Manufacturing, is taking place in Anaheim, Feb. 9-11, 2016. A Design News event, Pacific Design & Manufacturing is your chance to meet qualified suppliers, get hands-on access to the latest technologies, be informed from a world-class conference program, and expand your network. (You might even meet a Design News editor.) Learn more about Pacific Design & Manufacturing here.
Sign up for the Design News Daily newsletter.
You May Also Like
---
DesignCon 2024

Jan 30 - Feb 1, 2024
Jan 30 - Feb 1, 2024
DesignCon is the premier high-speed communications and system design conference and exposition, offering industry-critical engineering education in the heart of electronics innovation — Silicon Valley.
Learn More