Consolidation is a totally new phenomenon for semiconductors, but after 60 years, it's about time.
In 2015, an amazing wave of consolidations struck the semiconductor industry. Proposed mergers approached $160B in market value and over $100B have already been consummated. That's more than six times the largest annual merger amount in the history of the semiconductor industry.
To many, this consolidation seems natural. After all, the semiconductor industry is now more than 60 years old and the growth rate is slowing, as is common for most maturing industries.
Semiconductor sales as a percentage of total electronic equipment sales have been relatively flat for the last 20 years. Consolidation through mergers gradually increases as industries mature so why should the semiconductor industry be any different?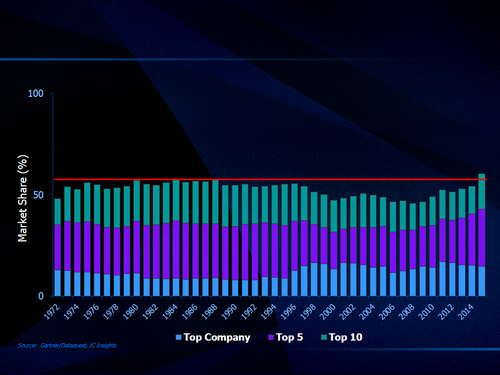 Combined market share of the top 10 semiconductor companies throughout history.
To continue reading this story on EE Times.com, click here.